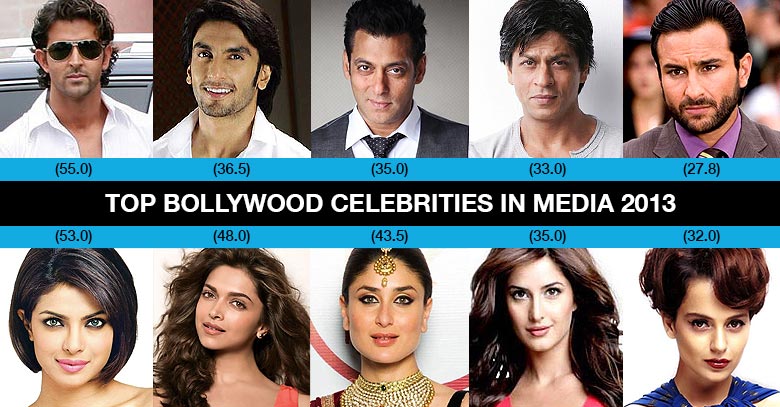 By Rabiya Shehab
Celebrities, are ordinary people with extra ordinary fame attracting thousands of fans worldwide.
Be it our local film or television industry, Hollywood or Bollywood; these superstars are extensively followed through news, gossip, social networking websites and on shoot locations.
"Times Celebex", a well-recognized rating index by Entertainment channel Zoom TV has issued the  ratings of Bollywood stars and the strong impact they hold over their audience through various media touchpoints.
The 'T Score'  is measured using various aspects ranging from Box Office performance to overall PR , social media fan pages ratings, appearance in news, promotions of upcoming movie releases on media and more.
Let's check out which Bollywood macho men and dazzling beauties tops the chart when it comes to media.
TOP ACTORS
1650 Print stories, 135 TV stories, 5 brand endorsements, 74 lac+ fans on Facebook, 46 lac+ followers on Twitter, over 2.5 lac mentions on Twitter and the release of Krrish 3 made Hrithik Roshan the No.1 actor on Times Celebex with the T-score of 55.0.
With 36.5 score, next in line of the top male actors is Ranveer Singh.  1.9 lac+ Twitter mentions, 1565 Print stories, 178 TV stories, 1 lac+ followers on Twitter and the release of Ram Leela in November and his alleged ongoing affair with Deepika Padukone has made this chocolate – boy, the new heartthrob of bollywood.
Third in this list is ever known Pandey ji of the famous movie "Dabangg", Salman Khan.  His anchoring stunts in the widely watched show "Big Boss" made him a regular name in every household.
Following Salman on the fourth spot is the King Shahrukh-Khan himself while Saif Ali Khan lands on the fifth position.
TOP ACTRESS
With over 2.5 lac mentions on Twitter, 1498 Print stories, 116 TV stories, heavy promotions of Krrish 3, 8 brand endorsements, a special appearance in Ram Leela, 72 lac+ fans on Facebook and over 51 lac followers on Twitter in November, Priyanka Chopra is No.1 on Times Celebex
Priyanka with her movies and the release of her album Exotic (Remixes) managed to get most visibility on screen.
After Priyanka, second on the list is Deepika Padukone With over 1.6 lac Twitter mentions, 2290 Print stories, 189 TV stories, 6 brand endorsements, 79 lac+ fans on Facebook, 48 lac+ Twitter followers and the release of Ram Leela in November.
Next in our top ladies of 2013 is Bollywood's Bebo, Kareena Kapoor. Kareena, With 1.6 lac+ mentions on Twitter, 1982 Print stories, 167 TV stories, 8 brand endorsements and the release of Gori Tere Pyaar Mein in November.
Following Kareena are the beautiful Katrina Kaif and the gorgeous Kangana Ranaut on fourth and fifth rank.