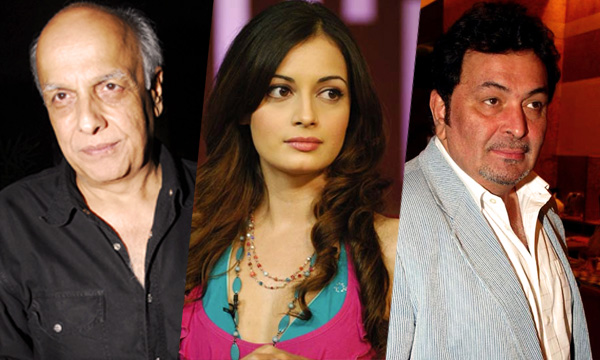 As Indian extremist political party Shiv Sena continues to protest against Pakistani artists, Bollywood celebrities have taken to Twitter to criticize their attacks and thuggish attitude.
Previously, events by Atif Aslam and Ghulam Ali were cancelled due to threats by Shiv Sena while more recently, a concert by Mekaal Hasan Band was cancelled due to protests outside the venue.
Attacks took a more unfortunate turn when Shiv Sena threw black paint on Indian diplomat, Sudheendra Kulkarni, in charge of moderating, Pakistani ex-foreign minister Khurshid Kasuri's book launch event in India.
Read more: Atif Aslam Pune India Concert Cancelled Due To Shiv Sena Threats
The offensive protests by Shiv Sena were condemned by almost everyone in India, including Bollywood celebs who took to Twitter to criticize the cowardly attacks:
R v at war with Pakistan? Hve v severed diplomatic relations?Hve v closd down our Embassies?Den what justification is dere 2 ban Ghulam Ali?

— Azmi Shabana (@AzmiShabana) October 8, 2015
Am deeply saddened by Shiv Senas attack on Sudheendra Kulkarni.wish 2talk 2 @uddhavthackeray n @AUThackeray but neither is talking my calls

— Azmi Shabana (@AzmiShabana) October 12, 2015
Ghulam Ali saab and his music are above and beyond politics. If he can't perform it will be our loss, not his. #Shame.

— VISHAL DADLANI (@VishalDadlani) October 7, 2015
Excuse me! This is ridiculous and unpardonable. And to address a media conference in this manner? Politics!! pic.twitter.com/qhUXMMPo1B

— rishi kapoor (@chintskap) October 12, 2015
Kudos #SudheendraKulkarni for not allowing intimidation and threat to weaken your choice.

— Dia Mirza (@deespeak) October 12, 2015
This kind of violence generates fear & denies free speech & free thought their 'God-given' sanctity.

— Mahesh Bhatt (@MaheshNBhatt) October 12, 2015
Dear Shiv Sena, Throwing paint on Sudheerna Kulkarni doesn't make you patriotic. If you remotely care, help fight our biggest enemy- poverty

— Sona Mohapatra (@sonamohapatra) October 12, 2015