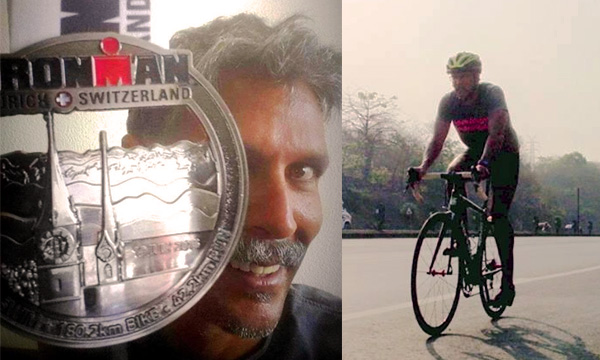 Milind Soman, the Bollywood actor known for his lead role in 'Captain Vyom' has now earned the title of 'Ironman'. He has successfully completed the 'Ironman Triathlon' held in Zurich, Switzerland on 19 July 2015.
The Ironman Triathlon is one of a series of long-distance triathlon races organized by the World Triathlon Corporation (WTC) consisting of a 3.86 km swim, a 180.25 km bicycle ride and a marathon 42.2 km run, raced in that order and without a break.
The triathlon is considered one of the world's toughest races and had 2,000 participants which included seven Indians. Milind completed the race in 15 hours and 19 minutes. Very few Indians have achieved this feat.
"If you are sufficiently aware and monitor your body's response at every stage in terms of nutrition and pace, it will all come together. I wanted to gift myself something special in my 50th year and I am glad I could do this," Soman told The Indian Express on phone from Zurich.
Milind, who is a national level swimmer for India, has been preparing for this competition from last few months. He has been keeping his fans updated about the same on social media by posting the pictures of his training sessions.