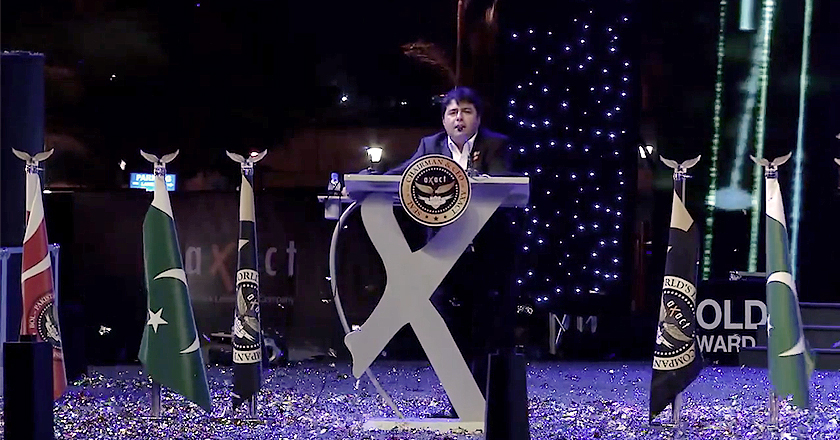 At the recent Axact TeamMeet 2014-15, Shoaib Ahmed Shaikh, CEO of Axact & BOL Media Group talked about the missions and objectives of the upcoming media giant, BOL Network.
Shoaib Ahmed claimed that competitors, particularly Geo Network, nicknaming them "Seth", are afraid of the upcoming media force.
He stated that the upcoming war is not between them and BOL Media Group but amongst Seth and his employees accrediting himself and BOL for making Seth pay more to his employees and respecting them more, in turn benefitting the entire industry.
Calling employees the assets in the service industry, BOL's CEO emphasized the importance of keeping them happy and satisfied to profit in the long term.
Accusing competitors of stealing data and trademarks by planting spies in Axact and BOL, he invalidated all their efforts by claiming that the spies give "Seths" only the information that BOL feeds them, knowing their hidden agenda.
Encouraging competitors to satisfy their urges to steal, he recommended them to steal BOL's visions, values and aims rather than its data, to ensure the prosperity of the country as a side benefit.
He made strong claims on how BOL allows journalists to be editors and editor-in-chiefs' unlike other competing networks who dictate news rather than allowing autonomy to relay the truth.
Watch how Shoaib Ahmed Sheikh insulted competitors and how attending journalists and celebrities endorsed the claims by applause:
Chairman & CEO Axact & BOL Group, Mr. Shoaib Ahmed Shaikh's Sp…

Chairman & CEO – Axact & BOL Group, Mr. Shoaib Ahmed Shaikh had the audience spellbound at #AxactTeamMeet 2014-15 sharing the vision of BOL,a media revolution that is out to build the Pakistan that could be for every Pakistani.He also gave a strong message to the 'Seth' in an earnest tone, "If you are bent upon stealing from BOL, steal our dreams & ambitions for Pakistan so that we become the great nation we are meant to be!"

Posted by BOL on Saturday, April 18, 2015
BOL has garnered massive social and media attention with its aggressive marketing campaigns and poaching some of the biggest names in the journalism industry of Pakistan.
While there is still no exact date for the official launch, it is expected that BOL will enter the industry with a bang.