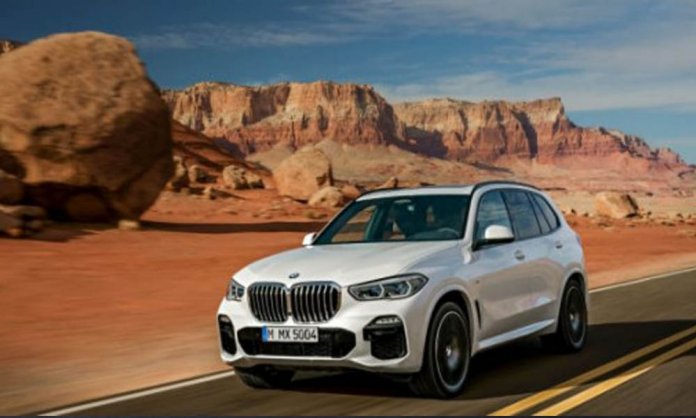 Only days after teasing pictures of its fourth-generation X5 crossover in the ubiquitous black and white camouflage, BMW has now released a set of images showing the new X5 in all its unclothed glory.
Although the styling isn't a huge departure from the tried and tested X5 blueprint, this is actually an all-new model in every sense, whereas the previous, third generation was essentially a reworking of the second-gen model.
Although the front fascia is extremely similar to the current X5, some bold restyling has been employed down the sides and at the rear. The new model delivers simpler surfacing with a very strong emphasis on horizontal and vertical lines, which gives the vehicle a sterner look that's not entirely unlike VW's styling on the latest Tiguan. This is definitely a more aggressive and less rounded look for the X5 than any of its predecessors and really makes this crossover stand out from the rest of BMW's X models.
It's obviously not apparent from images, but the new X5 is also larger than its predecessor, but not by much. The X5's length has grown by 35 mm to now measure 4921 mm, its width has been increased by 32mm to 1970 mm, and this model is now 11 mm taller than its predecessor at 1737 mm. The wheelbase has also grown by 42 mm to a length of 2975 mm, and that helps to deliver slightly shorter overhangs and larger door apertures at the front and the rear.
However, despite those increases in its exterior dimensions, the 2019 X5 has the same trunk capacity of 645 liters as the outgoing third-generation X5, which can rise to as much as 1860 liters when the 60:40 split rear seats are folded away.
On the inside there's more space for everyone, and there are a number technology features to get excited about such as 12.3-inch digital instrument panel and a similar-sized infotainment screen, both of which feature BMW's new ID7 operating system. The instrument panel adopts the same general shape as the one in the X7, but more opulent décor and materials inside the more expensive X7 will differentiate the pair.
Deliveries of the 2019 BMW X5 will commence towards the end of this year.