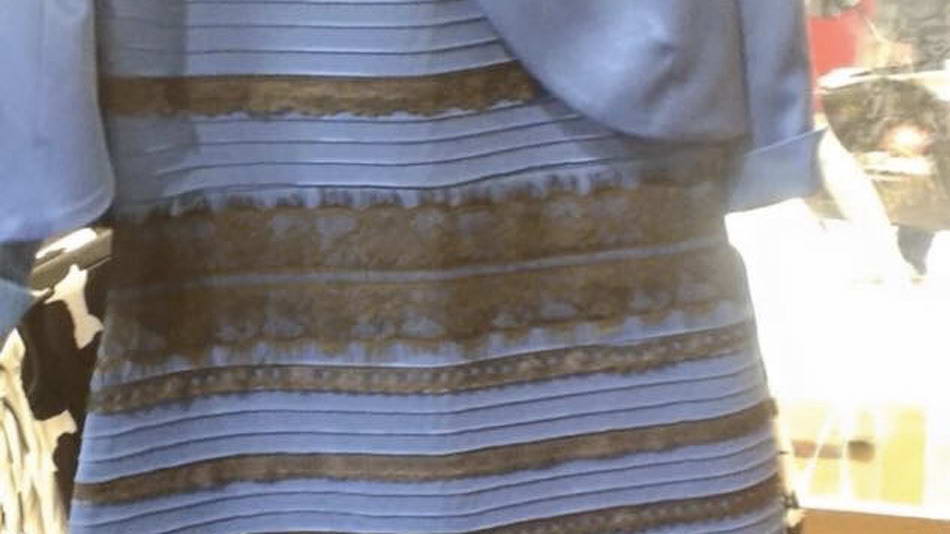 Meanwhile, Amazon.com describes the Mystery Dress as blue and black in color, so does the eye dropper tool in Adobe Photoshop.
So what color the dress actually is? Share your views in the comments below
Apparently, the internet is ferociously arguing on, not on how to make the world a better place, but the real color of a rather ugly dress that has been posted online.
While the question seems simple and easy to answer, it has ignite a fiery debate over the world wide web. Some on the people are of the opinion that the dress is in fact Blue and Black in color while the rest swear that the dress appears to be White and Gold.
Posted on Tumblr by a user name "Swiked" , the image for the "Dress Test" went viral and has freaked everyone  out on social media due to such diverse set of opinions.
"Guys please help me — is this dress white and gold, or blue and black? Me and my friends can't agree and we are freaking the f— out.", posted Swiked on Tumblr.
The controversy named as "Dressgate" has given birth to a variety of theories to give plausible explanations for the disagreement on color.
One theory suggest that different computer screens around the world are causing the dress to appear magical, while others say that it can be the due the angle of the computer screen while the dress is viewed.
Another explanation claims that those who see the dress as "Black and Blue" are pessimists while the team "Gold and White" are being labeled as optimists.
The hullabaloo on the Dressgate has even torn Hollywood celebrities apart, who too have gone bonkers to decide the real color of the dress.
If that's not White and Gold the universe is falling apart. Seriously what is happening????

— Anna Kendrick (@AnnaKendrick47) February 27, 2015
I don't understand this odd dress debate and I feel like it's a trick somehow. I'm confused and scared. PS it's OBVIOUSLY BLUE AND BLACK

— Taylor Swift (@taylorswift13) February 27, 2015
Dress controversy… VIOLET and BLACK! Obvs. https://t.co/uQLbu9km5G

— James Franco (@JamesFrancoTV) February 27, 2015
What color is that dress? I see white & gold. Kanye sees black & blue, who is color blind?

— Kim Kardashian West (@KimKardashian) February 27, 2015
Hold on…. So people actually see white and gold….??!! ????

— Demi Lovato (@ddlovato) February 27, 2015
i saw white and gold, then i saw blue and black. now I'm confused.

— Lucy Hale (@lucyhale) February 27, 2015
ITS WHITE AND GOLD IM DONE

— Rebecca Black (@MsRebeccaBlack) February 27, 2015