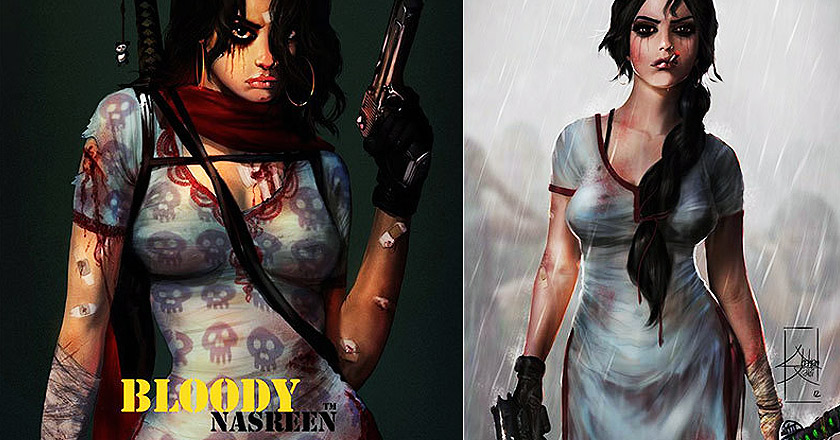 By Fatima Akhlaq
A 27-year-old girl from Karachi who wears skull-printed 'kameezes' (Shirts) with 'churidar' (tights)  and sneakers has gone viral – millions of Pakistanis are anxiously waiting for her to make an appearance.
Despite the impatience, you have to be a little more patient, Crew Motion Pictures (CMP), a sister company of crew films has taken the rights to the Bloody Nasreen feature film and has scheduled the film to be released in 2017. 
"We are aiming that Bloody Nasreen will hit the screens in 2017, but we will be presenting another film before that," says Faisal Rafi, senior producer at CMP and writer and co-producer of the Blood Nasreen film. "We are currently in pre-production phase for an epic crime drama, which will be shot in 2015. From CMP, you can expect many intense, action-oriented films over the next few years."
Right now the company is busy with the release of their first-ever feature film Dukhtar, which will release on August 14.
The director and cast of Bloody Nasreen will be declared at the international launch of Dukhtar. "Since the project is currently under way, casting has not been done. A few big international and local names have shown interest in playing the character," said Rafi
Bloody Nasreen is the creation of graphic artist Shahan Zaidi, whose fictional character fights against injustice and evil. "I am certain that if made right, this movie will be fun to watch. I think a cult audience will like it… just like Tarantino movies. But, of course, if someone goes to the movie theatre with a Godfather type of drama in mind, they will be disappointed," Zaidi told in an interview.
Rafi, who is co-writing the project with Zuhaib Shaikh, explains that he doesn't consider Bloody Nasreen as a superhero. Infact she's an anti hero. "Far from being a damsel in distress, Nasreen is distress itself," he says. "She is the product of her environment and her character has unique and interesting motivations, which will drive the narrative, showing a darker and hidden side of the city we live in. Nasreen is Karachi personified."
The fact that Bloody Nasreen is not a version of a comic book or novel makes the viewers all the more anxious to look forward to this enthralling film and has given greater room for the film makers to experiment.
In fact, Zaidi's graphic novel will be a continuation of the story that the film presents. Bloody Nasreen will be a first-of-its-kind project in Pakistan.