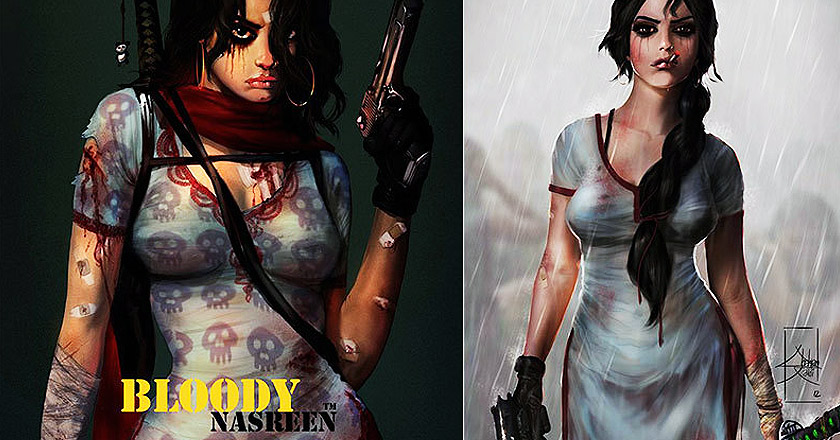 50 views
Intense eyes, flying braid and looks that kill like daggers.  
She smokes a cigarette and fights in the rain rain; carrying a gun in one hand and a sword in the other- and  she wears ShalwarKameez with sneakers. 
She is fierce, ruthless and hurt – She is known as Bloody Nasreen.
In a society where women have always been suppressed and tortured for centuries, a fictional character created by a Lahore-based designer, ShahanZaidi is here to combat traditions and stereotypes.
The main character of ShahanZaidi's English-­language graphic novel Bloody Nasreen is 27; she is Pakistan's first unveiled heroine who is a crimefighter. 
An anti-hero you're not supposed to like, Nasreen has an aggressive nature that makes her all the more violent. Zaidi doesn't think cool names can make a character cool. Hence, he chose to give her a common name that everyone can relate to.
Ruthless but not cruel, Nasreen is here to wage a war against terrorism, human trafficking, corruption and injustice, and thinks that resisting evil is worse than evil itself.
Speaking about the idea behind creating Nasreen, Zaidi said, "I have always been into humans rather than mutants or aliens," Zaidi said.
"I like Batman for that matter. How I can connect to a hero who doesn't belong to my planet? Or have super powers beyond my thoughts?"he added.
Born in Zaidi's sketchbook in 2009, it was not until recently thatNasreen went viral on social networking forums.
Zaidi hopes to publish the novel in October this year, while the film is already in pre-production phase.
"Comic is a cheaper way to make a movie, you do not have to issue or register, all you have to do is make the characters and the environment believable and make a very good story," Zaidi added while sharing his interest in comics.
Unlike Burqa Avenger, Pakistan's first superheroine who wears a burqa in the animated television series, Nasreen is oftentimes seen without a dupatta.
"Nasreen has nothing to say about this, it's her own choice," Zaidi said, smiling.
This has resulted in mixed responses on social media, but that does not seem to bother Zaidi. He believes a real comic book reader will understand the true worth of "exotic, hard action female domination  in comics."
When asked what he expects his readers to pick up the novel, Zaidi said the story is for entertainment purposes only.