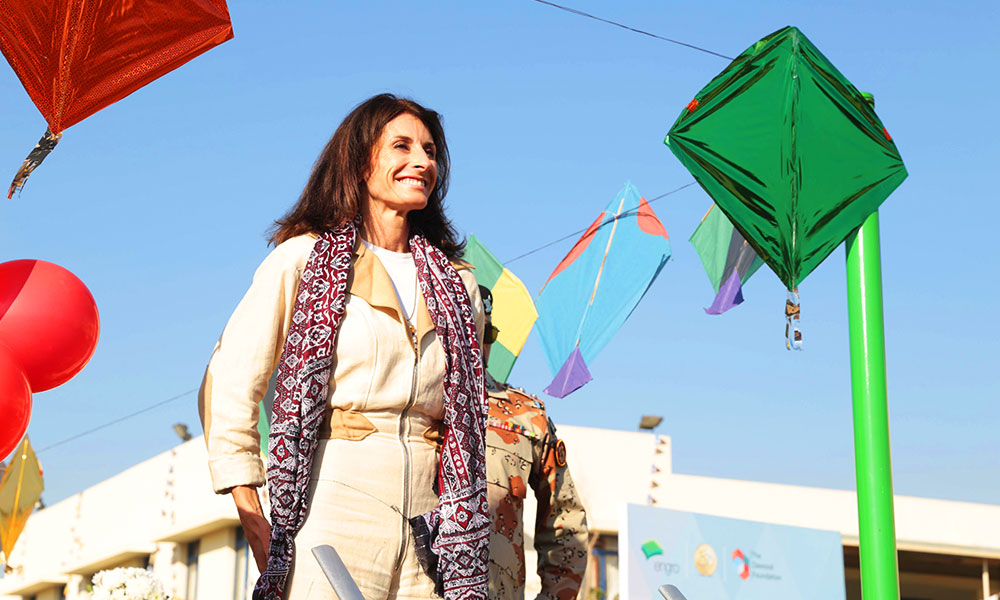 It was with great warmth and fanfare that 2,500 students of Dawood Public School and students from different government schools welcomed Tracey Curtis-Taylor, solo biplane pilot, when she visited the Dawood Public School on the 18th of November, 2015 in Karachi.
Pakistan's own hero, Samina Baig, the first Pakistani woman to climb Mount Everest was also present at the occasion and students were waiting eagerly to meet both these inspirational women.
Tracey Curtis was visiting Pakistan for a short period of 2 days as part of her 14-week long journey from Britain to Australia. She will be covering a distance of 13,000 miles in her 1942 Boeing Stearman Spirit and recreating the historic journey of Amy Johnson, the first female pilot who completed the journey in 1930.
The students were dressed in traditional clothing representing all the provinces of the nation to give her a feel of Pakistan's diversity and some were even wearing fully constructed airplane models!
Prince Nikolaos of Greece accompanied Tracy and the guests were greeted with dhol music upon their arrival which celebrated by not only speaking with her but by presenting her with tokens of appreciation and best wishes for her travels ahead.
See some images from Tracy's visit here:
The students were first addressed first by Samina Baig, a symbol of women empowerment in Pakistan saying  "I am overjoyed to be standing here in front of all of you today and to have the chance to meet Tracey Curtis. I want each of you to know that you can make your mark in the world if you set your hearts and minds to it. Don't let anyone stop you from achieving what you set out to do in your journey in life."
She spoke to the eager audience telling them that it had been her dream to climb Mount Everest in 2013 and wanted to place the flag on the summit commemorating Pakistan's 60th Anniversary. It took 42 days in a tent in adverse conditions but as a Pakistani woman she  proved that our women face hurdles and are capable of doing more than others. She then climbed 7 other summits with her brother (he didn't climb Everest with her to give her  the opportunity  to prove that women are as capable as men)  in the next 8 months and became the first Pakistani to climb 7 summits in 7 countries.
[vimeo id="146383633″]
Tracey Curtis was overwhelmed by the warm response she received in Pakistan and was taking back fond memories with her.
[vimeo id="146385992″]
Welcoming Tracey Curtis-Taylor and Samina Baig, Sabrina Dawood, CEO Dawood Foundation, said: "We are honored to have the opportunity to welcome Tracey and Samina at Dawood Public School and to have them interact with our students. These women are true symbols of women empowerment and representatives of what women can achieve in today's world."
Engro Corporation's Chairman, Hussain Dawood while addressing the students, Tracey Curtis and Samina Baig said: "Samina Baig and Tracey Curtis are an epitome of women empowerment. They are role models for females around the world. We are pleased to welcome them here today and wish them our support and the very best for their future journeys."