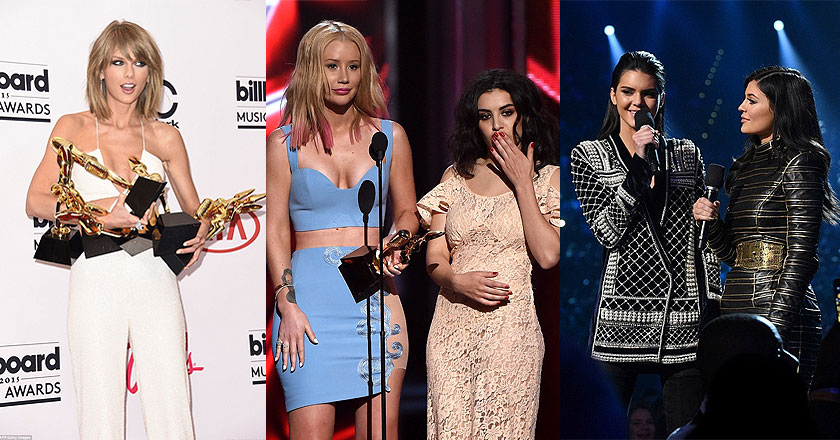 Billboard Music Awards 2015 is the hottest topic in the music industry today, having just ended a few hours ago.
Taylor Swift was the big winner of the night, bagging 7 awards to her name. She opened the night with the debut of her new music video 'Bad Blood' with its star cast.
Upon taking the stage after winning Top 200 Album, Taylor gushed: "I am so happy to win this for 1989. We put it out and you guys embraced change… for me doing something new. I love you more than I will ever be able to say to you. I love you so much."
One Direction also celebrated a big win at the Billboard Music Awards on Sunday night. Liam Payne thanked their fans before admitting to Zayn Malik's absence: 'There's one more person to share this with and that is our brother Zayn.' The boys won for both Top Group and later that evening for Top Touring Artist.
Mariah Carey returned to the Billboard Music Awards stage for the first time in 17 years to perform "Vision of Love" and "Infinity" on Sunday night.
Wiz Khalifa sung his song 'See You Again' and paid tribute to the late and great Paul Walker.
View pictures from the event below:
See the full winners list below:
TOP ARTIST: Taylor Swift
TOP COUNTRY ARTIST: Florida Georgia Line
BILLBOARD CHART ACHIEVEMENT AWARD PRESENTED BY SAMSUNG GALAXY (FAN-VOTED): Taylor Swift
TOP TOURING ARTIST: One Direction
TOP FEMALE ARTIST: Taylor Swift
TOP RADIO SONG:  John Legend, "All of Me"
TOP MALE ARTIST: Sam Smith
TOP RAP SONG: Iggy Azalea feat. Charli XCX, "Fancy"
TOP BILLBOARD 200 ALBUM: Taylor Swift, 1989
TOP DUO/GROUP: One Direction
TOP NEW ARTIST: Sam Smith
TOP BILLBOARD 200 ARTIST: Taylor Swift
TOP HOT 100 ARTIST: Taylor Swift
TOP DIGITAL SONGS ARTIST: Taylor Swift
TOP RADIO SONGS ARTIST: Sam Smith
TOP SOCIAL ARTIST: Justin Bieber
TOP STREAMING ARTIST: Iggy Azalea
TOP R&B ARTIST: Pharrell Williams
TOP RAP ARTIST: Iggy Azalea
TOP ROCK ARTIST: Hozier
TOP LATIN ARTIST: Romeo Santos
TOP DANCE/ELECTRONIC ARTIST: Calvin Harris
TOP CHRISTIAN ARTIST: Hillsong United
TOP SOUNDTRACK: Frozen
TOP R&B ALBUM: Pharrell Williams, G I R L
TOP RAP ALBUM: J. Cole, 2014 Forest Hills Drive
TOP COUNTRY ALBUM: Jason Aldean, Old Boots, New Dirt
TOP ROCK ALBUM: Coldplay, Ghost Stories
TOP LATIN ALBUM: Enrique Iglesias, Sex and Love
TOP DANCE/ELECTRONIC ALBUM: Lindsey Stirling, Shatter Me
TOP CHRISTIAN ALBUM: Lecrae, Anomaly
TOP HOT 100 SONG: Iggy Azalea feat. Charli XCX, "Fancy"
TOP DIGITAL SONG: Meghan Trainor, "All About That Bass"
TOP STREAMING SONG (AUDIO): John Legend, "All of Me"
TOP STREAMING SONG (VIDEO): Taylor Swift, "Shake It Off"
TOP R&B SONG: Pharrell Williams, "Happy"
TOP COUNTRY SONG: Jason Aldean, "Burnin' It Down"
TOP ROCK SONG: Hozier, "Take Me to Church"
TOP LATIN SONG: Enrique Iglesias feat. Descemer Bueno & Gente de Zona, "Bailando"
TOP DANCE/ELECTRONIC SONG: DJ Snake & Lil Jon, "Turn Down For What"
TOP CHRISTIAN SONG: Carrie Underwood, "Something in the Water"