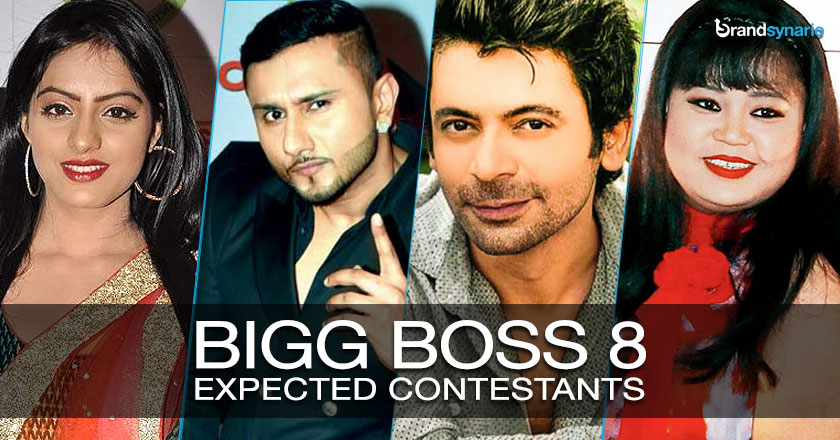 The ultimate hotbed of unadulterated gossip, high flying drama, non-stop fights and passionate love affairs: "Big Boss" is all set to return to our TV screens, promising an even higher voltage of masala and glamour with its upcoming 8th season. 
Now that it's definite that Salman Khan is yet again returning this year, along with his trademark hosting skills in India's all-time controversial reality show; all eyes are on the secret list of contestants who will make their way to Bigg Boss this time around.
Upen Patel, Bollywood actor and model has already been roped in as the first contestant to enter in the house. Let's take a sneak peak at the rumored list of some of the expected celebs who might be locked up as inmates in the "Bigg Boss" House this season.
1. Bharti Singh
Critics are of the opinion that with Bharti in Big Boss this year, no one can stop this season to be a total laugher riot. Well, we all could do with some good sense of humor when there is the extreme outbreak of nonsense in the Big Boss house.
2. Lulia Vantur
Many might not know this, but this beauty from Romania was rumored to be once dating our beloved Dabbang Khan. With her on the sets of season 8, let's watch out for a rekindling romance between Lulia and Dabang Khan.
3. Shiney Ahuja
With so many futile attempts to "shine" in Bollywood, Big Boss is now Shiney Ahujja's only ticket for an acceptable comeback. He should totally seize the offer because with his sad state of unemployment, his entry in the season might work wonders for him.
4. Alok Naath
Bollywood's Babujee of all distressed daughters "Alok Naath" is the most anticipated star to be part of the Big Boss hullabaloo. You never know, he might even turn things a bit "Sanskaari" in the house for a change this year. 
5. Shanti Dynamite
Termed as India's first playboy girl and ranked as one of the 50 sexiest women in Asia by a British magazine, Shanti Dynamite will surely switch the "oomph" factor on if locked inside the Big Boss house for three whole months. 
6. Sunil Grover
Honestly, who would not want Sunil Grover-aka Gutthi- to be on the show? With his popularity and enormous fandom, he is bound to get all the limelight, defeat any inmate and win the show.
7. Poonam Pandey
According to the rumor mills Poonam Pandey has yet again, like last year, been offered to be a part of Big Boss 2014. One thing is apparent – her presence will definitely raise the hotness bar a level higher this time around. But we doubt that she will be able to survive not posting her seductive snaps on social media for so long.
8. Yo Yo Honey Singh
India's ultimate rap sensation, Honey Singh is also being claimed as the ideal figure to be included in the Big Boss celebrity list. However, for that he will have to leave his daily "Char Bottle Vodka" routine, or no way will Big Boss tolerate him in the house. 
9. Deepika Singh
She is, like countless other heroines, playing the "typical daughter- in- law" role on Indian TV screens these days. It will be fun to see if the nation's lovable bahu be able to protect her pride and handle the plague of debates and wrangles in Big Boss's home of inevitable controversies.
10. Kumar Vishwas
The buzz is that India's "Aam Admi Party" member "Kumar Vishwas" has too been offered a seat in the house this season. If he accepts the offer, it will indeed be intriguing to witness how well he plays the politics churning in the show. 
Who do you want to see in Bigg Boss' house this season?