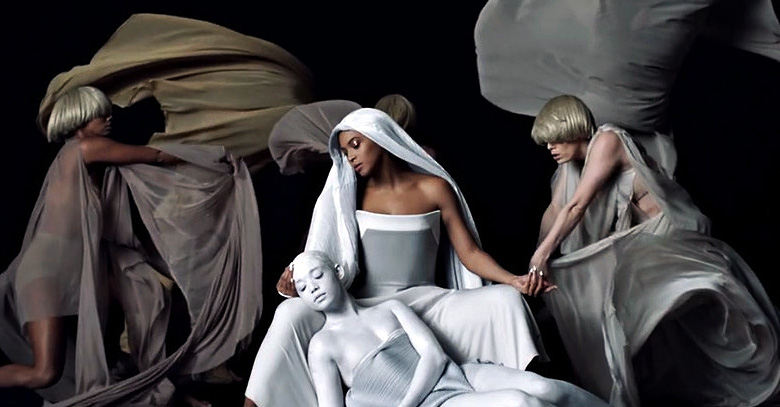 By Hassan Wasti
Beyoncé has recently launched her first ever digital album, with no marketing efforts or pre-launch events.
Beyoncé announced her albums release over Facebook and Twitter. The album named 'Beyoncé' is a mix of both audio and video tracks, music enthusiasts say that with this album Beyonce has started a new trend to be followed by other music artists.
The album has 14 songs each with their very own video content; this is a refreshing change in the practice of having videos for only singles. The album has stirred a lot of interest among the fans not only because of the songs but also because of its production.
The 32-year-old and her legion of well-known directors shot music videos for each song during her world tour in New York City, Paris, Sydney and Rio de Janeiro, among other places.
Beyonce shed the usual marketing gimmicks like campaigns, promos, teasers for a more unconventional approach, the entire project was kept under total secrecy even those videos shot in open space were done without any attention from the media.
"I didn't want to release my music the way I've done it. I am bored with that," Beyoncé said. "I feel like I am able to speak directly to my fans. There's so much that gets between the music, the artist and the fans. I felt like I didn't want anybody to give the message when my record is coming out. I just want this to come out when it's ready and from me to my fans."
Her team for this project included the likes of Jay-Z , Drake, Justin Timberlake and  Pharrell Williams, with a team such as this one has to appreciate Beyonce for successfully keeping her project under the rug till the launch date.
Beyonce seemed to have broken a lot of conventional rules of the music industry as many never expected a mainstream artist to release a digital album but yet again it looks like Beyonce has opted to be different than the rest by embracing the digital world and doing what no mainstream artist dared to do till now.
RECORD BREAKING SALES
Beyonce's album, available on iTunes has broken previous sales record held by Justin Timberlake's 20/20 Experience, which sold 580,000 worldwide on iTunes (U.S. number aren't available) and Taylor Swift's Red (465,000, U.S.)
So far, 617,213 albums have already been purchased in its U.S. iTunes Store and 828,773 internationally. Looks like it is a new day in the music industry and won't be a surprise if this becomes a global trend.
Apple also reports that the album surpassed iTunes album charts in 104 countries.
Beyonce's successful approach resonated around the globe through Facebook, mentions of "Beyoncé" spiked more than 1,300% in the hours after the album dropped, a Facebook spokesperson told Mashable. And the reception on Twitter was just as overwhelming.
In the Meanwhile, the physical copies of the album will be available in stores just in time for holidays.