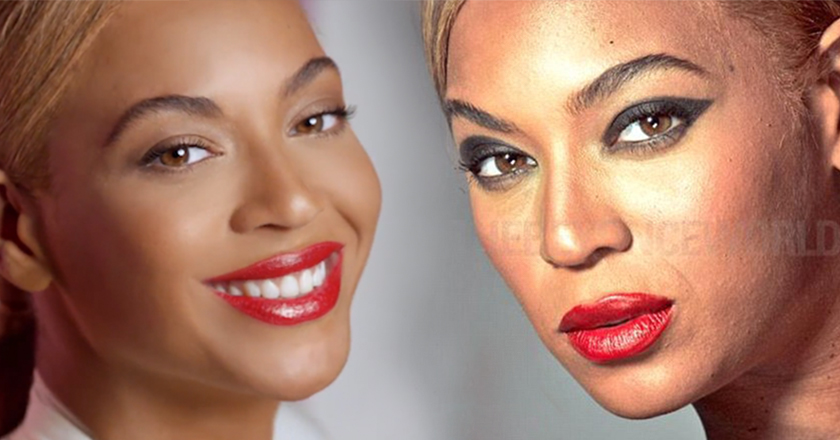 Queen Bey is human after all!
Around 250 un-retouched pictures of Beyonce Knowles were leaked by a website called 'The Beyonce World'.
No newcomer to Photoshop controversies, the 'Flawless' icon is shown to have bumpy, uneven skin, under heavy foundation.
Beyonce, spokesperson for L'Oreal, did the 2013 ads for L'Oreal's Feria and Infallible products, which publicize hair dyes, lipsticks and foundations.
The Queen has not yet commented on the leak of the photos, which were removed at once by the website soon after they were posted, but not before they were copied and posted elsewhere on the vast Internet.
Beyonce's fans, dubbed as the 'BeyHive', were outraged at this invasion of privacy by The Beyonce World. Many openly said so on Twitter.
Beyoncé unphotoshopped pictures have been leaked ?? pic.twitter.com/jq6NHbsi6m

— Dann (@actuallyCR) February 18, 2015
I've reported those leaked Beyonce pictures to the FBI

— bourgeoisophie (@bowiescheekbone) February 18, 2015
However, some supported the 'Flawless' singer by appreciating her natural look.
Beyoncé's leaked pictures are not that bad lol

— x (@ladygagasus) February 18, 2015
Idk why yall surprised over these leaked untouched pictures of Beyonce. She's human lol she is going to age, get pimples, etc.

— Buzzing BRI. (@__Briella) February 18, 2015
I have seen Beyoncé in person. What she looks like in pictures is what she looks like in real life. Those "leaked" pictures are fake.

— BeyoncéStan (@stan4yonce) February 18, 2015
The website owners were swift to apologize for this leak saying, "Due to the disdain of the BeyHive, we have removed the photos. We don't want to cause any drama, nor do we wish to start fan wars. Some of the things we have seen posted were just horrible, and we don't want any parts of it. We were just posting the photos to share the fact that our queen is naturally beautiful, at the same time she is just a regular woman."
After the initial wave of internet bullies, it seems that positivity is winning out. Having the veil lifted off of the amount of retouching that goes on in magazine images and ad campaigns might be a good thing. People are finally ready to celebrate real, raw beauty.