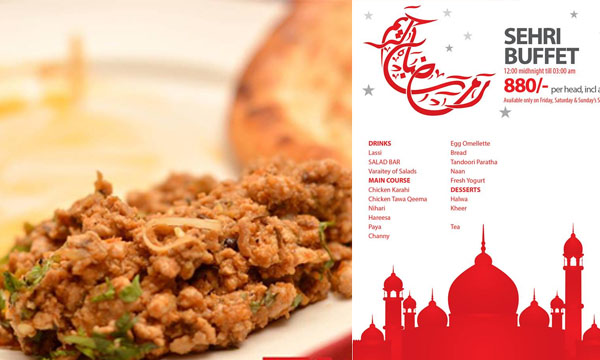 Ladies and Gentlemen! It's that time of the year again, it's Ramadan! It's time to set our alarms early and get ready to feast on some wonderful Sehri deals.
Lahore is the hub of all things related to food and as expected the number of deals offered in Ramazan are not only bigger but the type of food items offered are also a lot better!
Tabaq!
Situated on McLeod Road Tabaq welcomes you all for a buffet on Sehri time on Friday, Saturday and Sunday. Tabaq has kept its Sehri deal quite reasonable, priced at PKR 880 with no additional taxes, they are offering you a huge variety of dishes in their buffet menu.
Tabaq's sensational Sehri menu consists of:
Drinks:
Salads: Salad bar will be open featuring all kinds of salad.
Main Course:
Chicken Karahi
Chicken Tawa Qeema
Nihari
Hareesa
Paye
Channey
Egg Omelette
Bread
Tandoori Paratha
Naan
Fresh Yogurt
Dessert: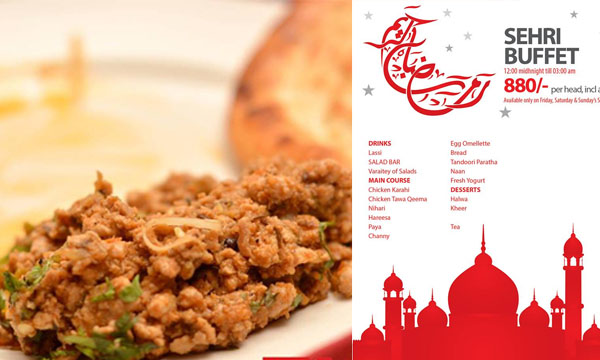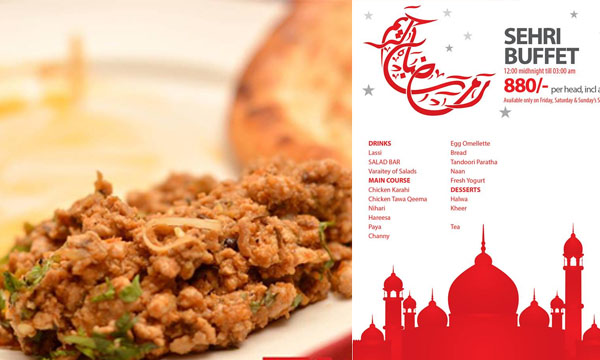 Monal
Monal is one of the most recent sensations in Lahore. Positioned atop a building in the heart of Lahore; it provides people with not just quality food but also with an ambience that is next to none in Lahore. Their Sehri buffet is priced at PKR 790 without taxes. Also they are providing the Sehri menu 7 days a week, starting from the 2nd Ramazan till Eid day!
Check our their menu:
Drinks:
Main Courses:
Murgh Channay
Mutton Palik
Tawa Qeema
Seekh Kebab
Omelette
Alu/Anday Bhooji
Prathe; Plain or Alu Wala or Qeema Wala
Toasted Bread
Kulcha
Jam and Butter
Dessert: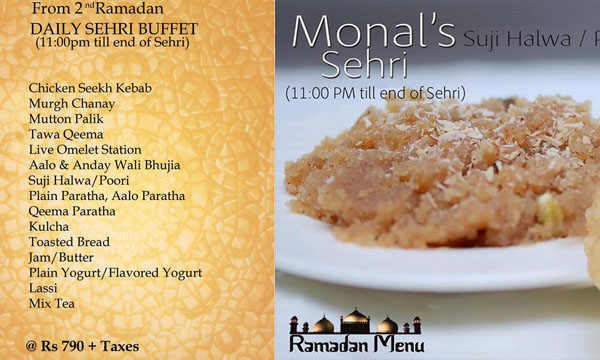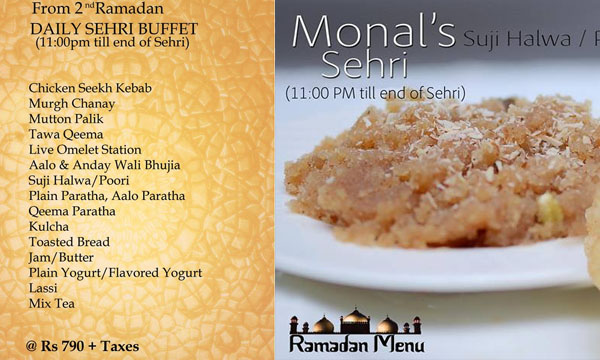 LA Atrium by Chenone
Located cozily next to the Chenone Grand store on Hali Road, La Atrium is the perfect place for fine dining. This Ramazan they are offering their customers Sehri Buffet that will begin from 1 am and last till Azan-e-Fajr on Saturday and Sunday.
For a price of PKR 599+ Tax here is a list of things that you can feast on:
Drinks:
Tea
Coffee
Green Tea
Lassi (Sweet/Saltish)
Main Course:
Eggs; fried and omelette
Slices or toast; white or bran
6 desi dishes
5 continental dishes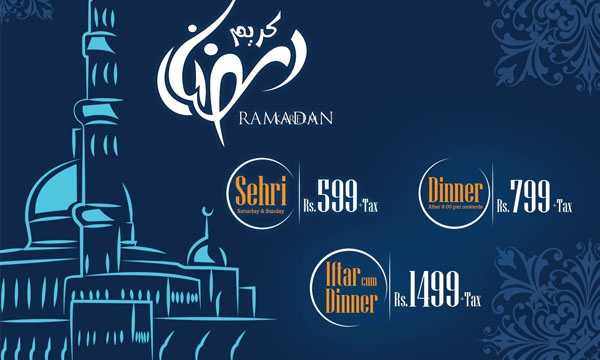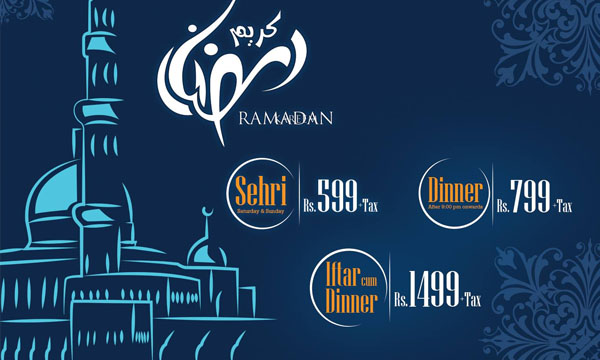 Dera
Positioned across the famous Gourmet restaurant, Dera has certainly gained popularity recently. With similar kinds of food items to offer and that too at very reasonable rates this place is sure to draw a lot of attention. Priced at PKR 650 (excluding all taxes) here is what they have to offer:
Drinks:
Lassi
Tea (Saltish and Sweet)
Main Course:
Mutton Qeema Mutter
Mutton Palak
Chicken Karahi
Murgh Chana
Mix Vegetable
Omelette; Plain, Vegetable & Cheese
Paratha; Plain, Alu or Chicken
Nan' Roghni or Plain
Roti
Dessert: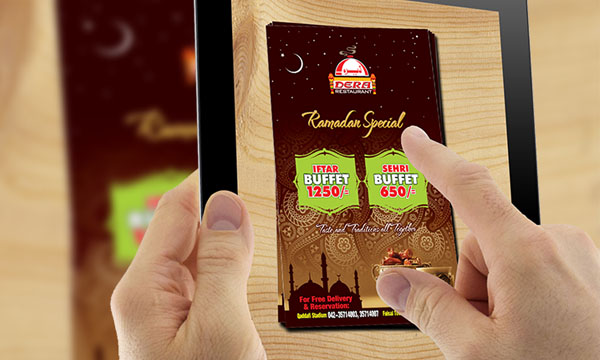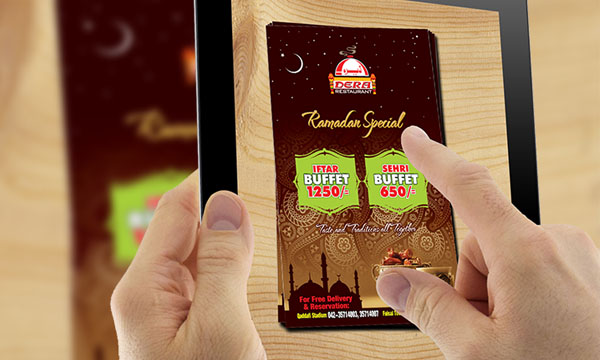 Stay tuned for more updates.