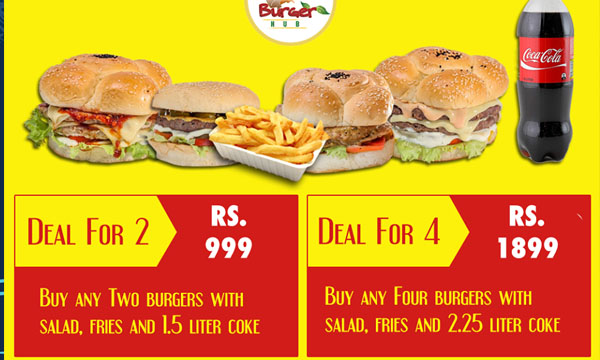 If there is one thing that can make iftar time fun for you in Lahore in this summer heat it has to be the many iftar deals that one can choose to feast on. From Faisal town to Gulberg to the M.M Alam road there are a variety of restaurants offering mouthwatering deals to choose from!
La Atrium
Brought to us by Chenone, a fairly new venture that has steadily grown in popularity over the years. They offer their customers Iftar buffet deal priced at PKR 799 (excluding taxes) while their iftar cum dinner deal is priced at PKR 1499 (excluding taxes)
The iftar cum dinner deal includes:
Complementary dates to break the fast with.
Drinks: Rooh Afza and other similar dishes
Iftar Package alone: Will contain 7 items including pakoray, dahi bhalley, channa chaat.
Dinner Package: 8 types of salads, 7 types of Pakistani dishes, 3 types of Thai/Chinese dishes, 3 types of continental dishes and 10 different types of Dessert.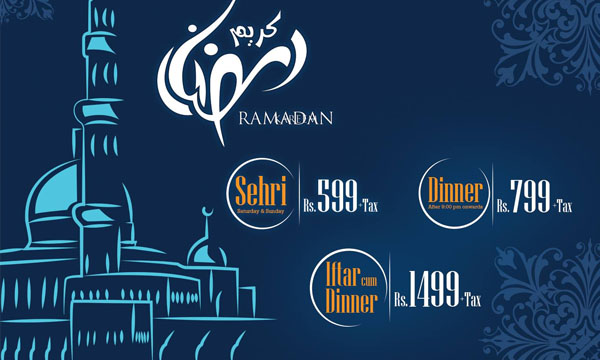 Dera
This restaurant initially commenced operation from Qaddafi Stadium has now branched into Faisal Town, and is proving to be a formidable nemesis of the Gourmet restaurant. It's one of the budget restaurants where you actually get what you pay for and don't go home disappointed because the food wasn't good enough in taste or quantity.
The one thing I love about their iftar deals is the sheer variety of items that they have brought to their customers.
The iftar buffet will cost you around PKR 1250 (excluding taxes) and you can enjoy the following items:
Drinks:
Rooh Afza
Leemo Paani (Lemonade)
Main Courses:
Chicken Sajji
Mutton Palak
Chicken Mughlai
Chicken Manchurian
Dall Mash
Chicken Kebab
Afghani Boti
Chicken Biryani
Chicken Fried Rice
Chicken Chowmein
Mix Vegetable
Roghni Naan
Roti
Dessert
Raita/Salad
Mint Raita
Zeera Raita
Kachumar Salad
Chicken Apple Salad
Plum Sauce
Red Beans
Burger Hub
Found in DHA and on MM Alam Road, it is rumored to be one of the best burger places in town. If you think you can munch down burgers in iftar  then I present to you two very appetizing deals by burger hub, beginning from the 1st of Ramazan:
Iftar deal; priced at PKR 999 including taxes, good  enough for two (2) people: Two burgers of the customers choice (beef or chicken) along  with coleslaw salad, freshly fied fries & 1.5 liter fizzy drink of the customers choice.
Iftar deal, priced at PKR 1899 including taxes for 4 individuals: Four burgers of customers choosing (chicken or beef) with coleslaw salad, freshly fried fries and a fizzy drink of 2.25 liter.
*If double patty burger is ordered then PKR 100 will be charged over and above per burger. 
This deal is only valid from iftar till  9 pm all through Ramadan. Along with dine in, this deal is also available for home delivery and takeaway.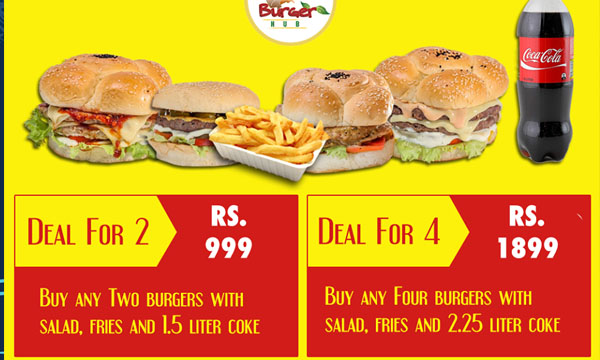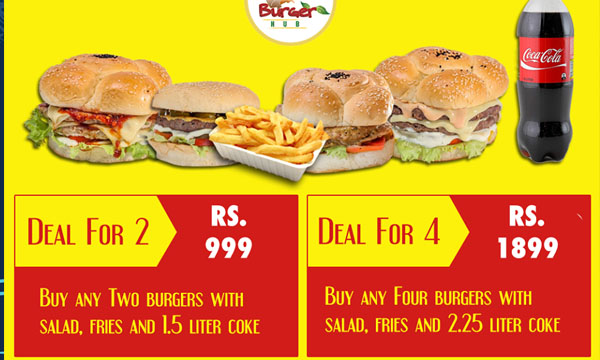 Cafe Costa
Another delightful cafe on MM Alam Road that offers an exemplary buffet on regular days too, why would Ramazan be any different?
For a cost of PKR 999 (exclusive of GST) you get a complete iftar deal that can be availed till 9 pm.
By paying an extra PKR 99 per person you can add unlimited number of beverages; including soft drinks and water to your iftar deal. At iftar time though you will be provided with a single serving of Rooh Afza only if you do not take the above mentioned deal.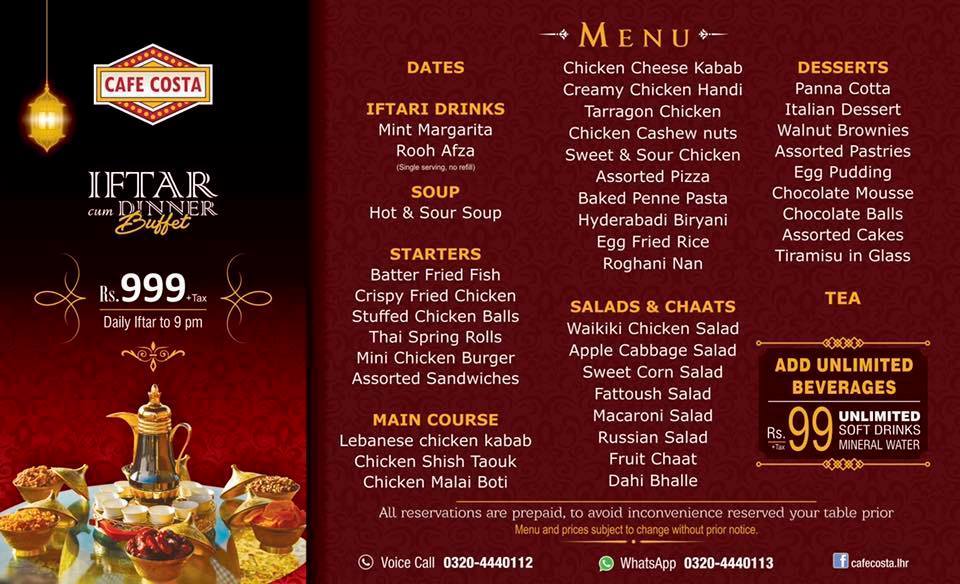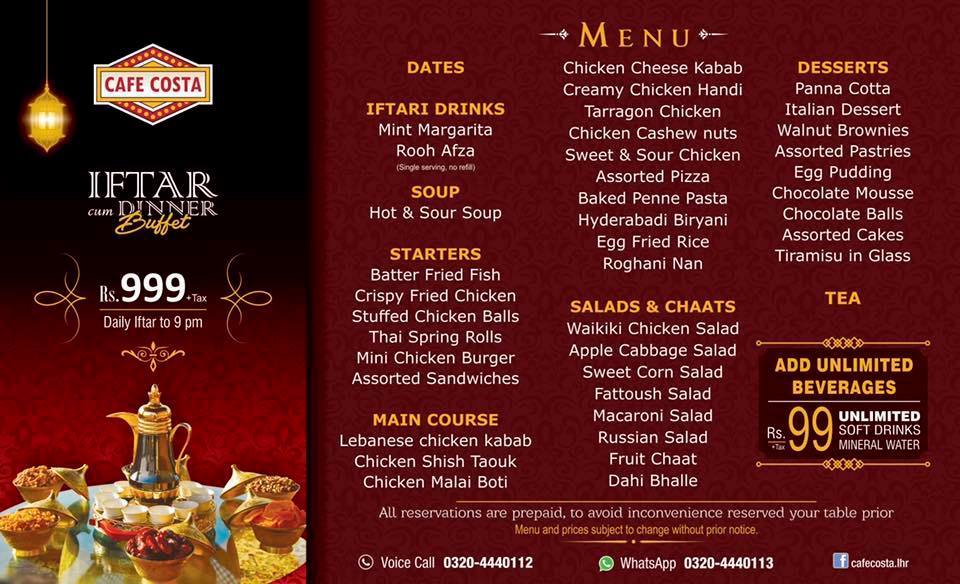 Pizza Hut
I know, I know most Lahoris I know are quite dissapointed at this restaurants failure to update their menu, but they have brought their A game to the Iftar deals.
Pizza hut is offering an all you can eat deal for PKR 849 exclusive of taxes valid for their collection of Pizzas and salads. Along with the food they are also offering free beverages to those who avail this offer.
So, wheres the fun in that? Well, if 10 people come to avail this offer, only 9 people have to pay, the 10th person can avail this offer for free. So, its basically 10 people dining in for the cost of 9.
And if this wasn't enough to get people's attention, they are also throwing in a free cornetto for everyone who avails this deal.
If this doesn't tempt you to at least try this deal out once, I don't know what will.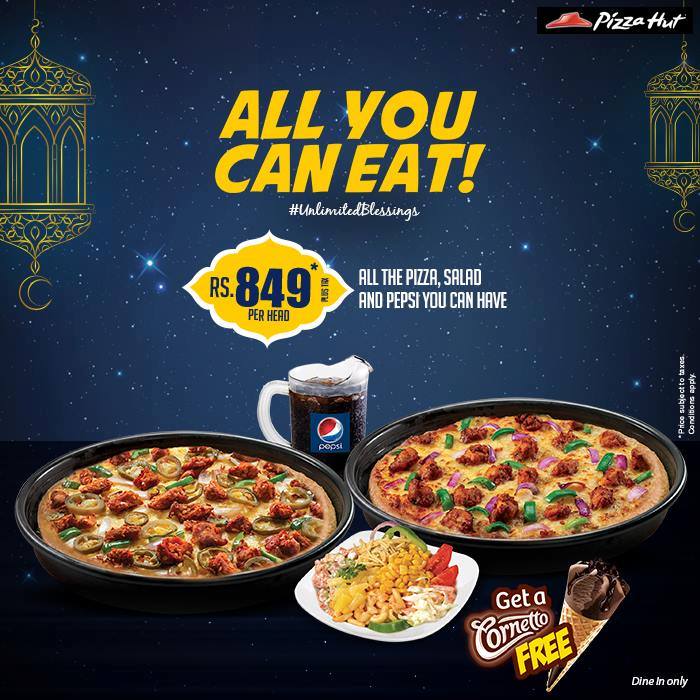 Howdy!
One of the most prominent players in the world of burgers, Howdy has yet to disappoint us.
For PKR 999 (Exclusive of taxes) this is what you can expect from the deal:
Any of their Burger (Only Single Patty are included in this deal, by paying more you can alsopurchase a double patty burger)
An incredibly savoury Shashlik stick

Delicious trademark Jalapeño Popper

Some Cheese Sticks to get you started

Freshly made Fruit Salad

Appetizing Pasta Salad

Dessert that may vary throughout Ramazan

1 Beverage of your choice with 1 refill absolutely free!
Don't let the listed items fool you, this is a one of a kind deal that you must try out at least once this Ramazan.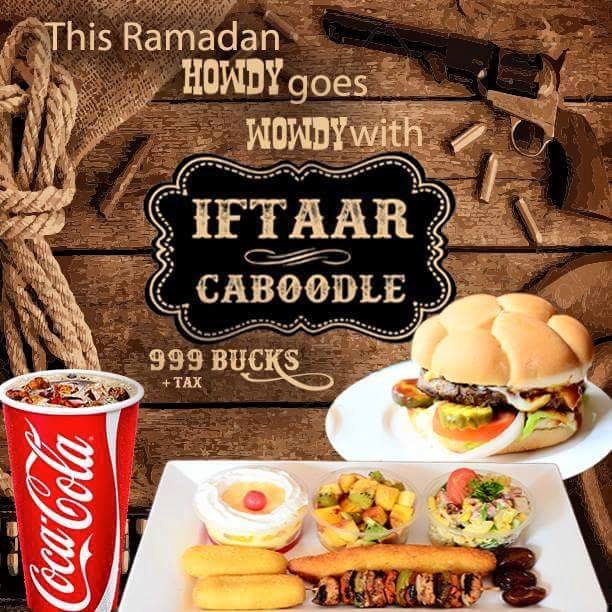 The Cafe Upstairs
Considered by many as one of the 'IT' places to dine at now days in Lahore, Cafe Upstairs brings to you an amazing array of dishes served from iftar till suhoor time for a price of PKR 1395/head excluding taxes.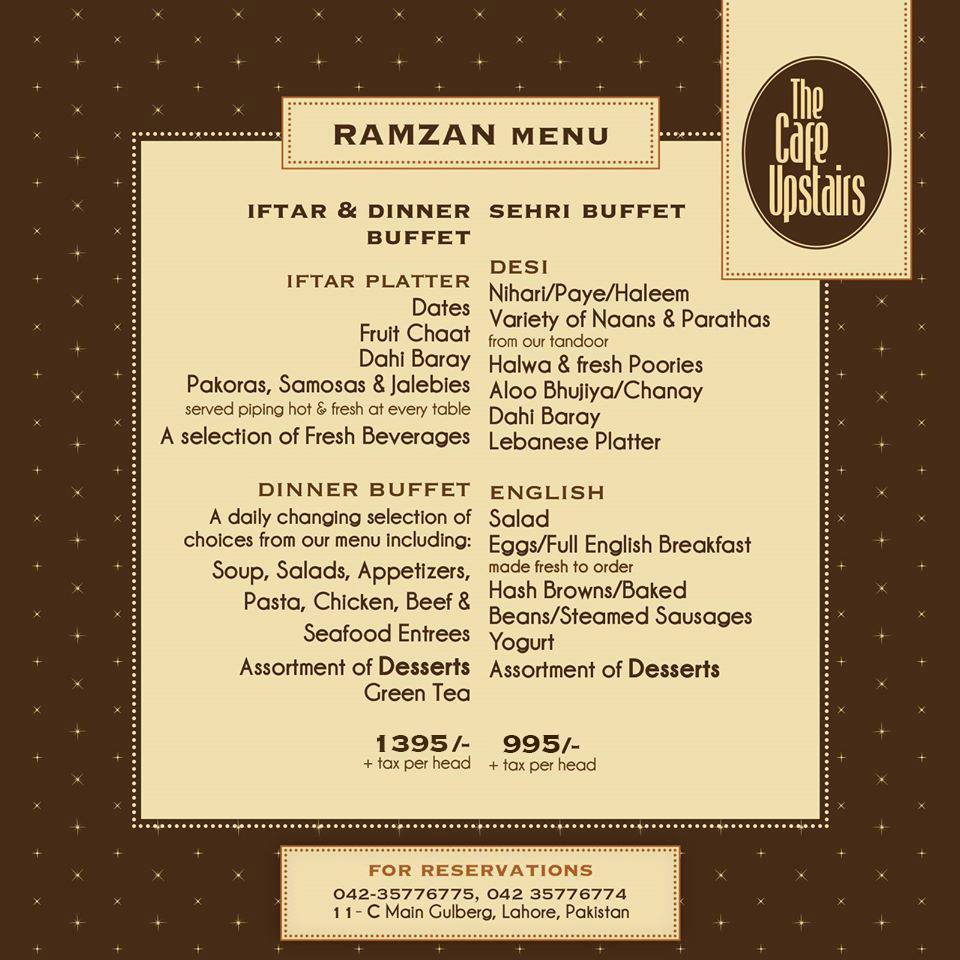 OPTP
Our lists of the best fast food chains just has to include OPTP, and I believe that this iftar they have truly outdone themselves. For a very budgetary price of PKR 1000 excluding taxes they are offering their customers:
6 chicken drumsticks
8 jumbo nuggets
Family size french fries with garlic mayonnaise
And last but not the least; 1.5 liter bottle of your favorite beverage.
And, to top it all of, you can even have the above mentioned iftar platter home delivered to your place.

McDonalds
Well it wouldn't be fair to leave their iftar deal out of the picture especially since they have come up with excellent ones.
Ramazan Deal number 1:
Priced at PKR 550 exclusive of all taxes, it includes:
Spicy Mc Crispy
6 Spicy chicken nuggets
Regular fries
Medium Drink
Ramazan Deal number 2:
Priced at PKR 450 exclusive of all taxes, it includes:
Mc Chicken
6 Spicy chicken nuggets
Regular fries
Medium Drink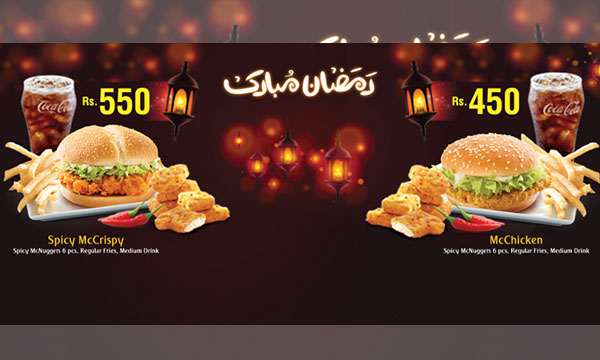 Just a tip: Make sure you call and make reservations on all of the above-mentioned restaurants before you go to them physically, it's Ramazan, and my personal experiences have taught me that without prior reservations you can only get a table at any of the places if you reach there an hour or two early, or else you might have to break your fast in the car or in a line outside your restaurant of choice.
Stay tuned for more deals as they roll in.