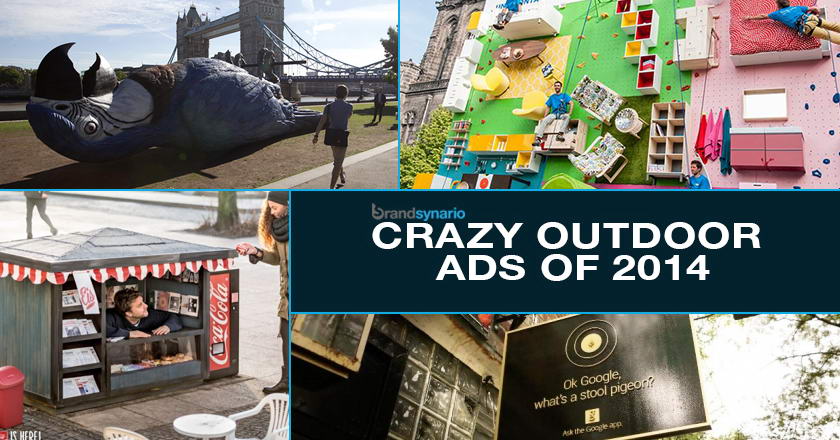 By Pashmina Zulfiqar Ali
With the new year 2015 coming in, it's time to look back to the best advertisements executed in the outgoing year 2014
A point to note is the fact that some of the most exciting and fascinating ads were not found on television or in the print or digital mediums, but they were found in the creative  ' Out of Home Campaigns'.
In a place where brands need to fight for attention,the challenge and competency of marketers comes to life and open up a new window to analyze advertising needs.
Below are the 7 of the best Ads that came out with exceptional concepts, proving that outdoor ads do create a mark for a brand every time.
1. Skinny Cars Will Fit Anywhere:

The basic concept speaks that 'Smart cars can fit everywhere, even in the slimmest area'. This Skinny advert was conceptualized by Contrapunto BBDO, which was executed on the narrow side of an outdoor display board. The text in it reads: "Siempre Hay Un Hueco", meaning 'There is always a space". The big idea is not exactly the first of its kind. Sources reveal that the line and basic premise were used in a student's project in Argentina last year.
2. Kitkat – Half Finished Display Board:
 How does it feel when anyone says 'Give me a break' and a KitKat is in front of you? Sounds yummy!
It was back in 1958, when J. Walter Thompson's Donald Gilles came up with the line "Have a Break. Have a KitKat", and after around 56 years, JWT London found an innovative way to illustrate this line with a half-finished display billboard. It was indeed a clever idea.
3. Gold TV Promoting Monty Python Reunion:
UKTV's Gold Channel & Sculptor Iain Prendergast promoted Monty Python created with fiberglass dead parrot suspended from a crane and laid Talons-up in London's Potters Field.  The dead parrot was a reference to Monty Python's 'Dead Parrot Sketch', keeping the realism of the bird while adding touch like bloodshot and stunned eyes.
4. McDonald's Icons:
 These minimalistic ads reveal a bold campaign for McDonald's which shows close up photograph of McDonald's "Big 6" menu items – Big Mac, Cheeseburger, Fries, Sundae, Chicken Nuggets and Filet-o-Fish. Amazingly, you cannot find the brand name "McDonald's" in the ad. However, a very subtle branding 'Golden arches next to the illustrations' can be seen.  TBWA , Paris has indeed succeeded in creating icons for the brand.
5. Valentine's Day Love Emergencies:
Have you ever imagined the existence of 'Love Emergencies'? At least I haven't before coming across this crazy advert. Paris discovered a new way of celebrating Valentine 's day with a breakable flower box. The Flower Council of Holland – A group that help florists build their floral business, with the help of Kingsday creative agency, installed 1500 little red emergency boxes but having one cute rose flower in it. The text on the box says "In case of Love at first sight, break glass". Though the stunt looks dangerous but it's not as the glass is cellophane.
6. The Mini Coca Cola is Here:
Coca-Cola and Ogilvy & Mather Berlin introduced a crazy concept of selling mini cans in 2014. These mini cans along with pint-size vending machine were launched in Germany which eventually sold an average of 380 mini cans per day. 'It's the little things in life that make us happy' says the tagline of the campaign.
7. IKEA's Rock Climbing Wall:
Ikea celebrated the opening of its 30th store in France by building an apartment come outdoor display into a vertical rock climbing wall, which looked slightly slanted. This impressive outdoor display was made in the city of Clermont – Ferrand with the help of Ubi Bene, marketing shop. This 9 meters high and 10 meters wide wall allowed the public to navigate among stylish beds, tables, chairs, cabinets and other accessories shown. I would love to create this kind of arrangement in my home, would you?