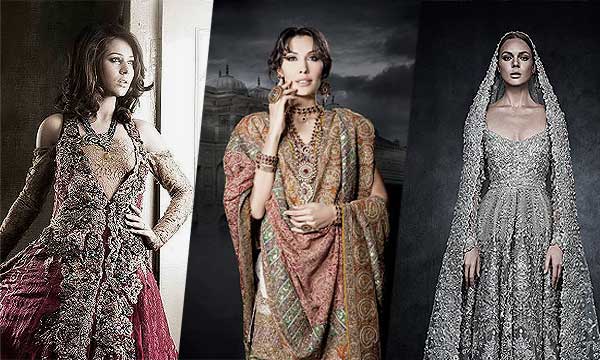 Nothing tops the triumph of saying 'qabool hai' in an outfit that catches everyone's attention and makes you look alluring. As the wedding season is in full throttle, we have rounded up some of the best bridal wear designers who have been in the spotlight and have proved their mettle with their design philosophies.
Veteran Designers
If you want to turn your wedding ensemble into a memory and a million bucks moment; opt for a veteran designer.
Deepak Perwani
Deepak Perwani started his career with menswear and forayed into designing bridal dresses later in his career. His bridal designs are appropriate for contemporary brides who are modern and chic. He loves to play with colors and sleek cuts while keeping the traditional feel alive. View his gorgeous collection of bridal ensembles below;
HSY
HSY is regarded as the king of couture and he makes sure he reflects this status in his designs. His bridal dresses exude a persona that has class and elegance. Attention to details, modern touch, glitzy embellishments, voluminous and lady-like cuts are some of the common features of his designs that every bride dreams to have in her wedding dress.
Bunto Kazmi
Bunto Kazmi is one timeless bridal designer. The brilliance of her designs eloquently reflect her royalty and every bride dreams to wear her magnificent designs.
Kazmi's bridal dresses have an aura that is majestic and regal. Paying attention to meticulous details, enhancing the design by focusing on textures and working on silhouette to give the dress a unique spin are some characteristics that remain evident in Kazmi's bridal dresses.
Nilofer Shahid
The legendary designer has stepped back into the limelight with her recent collection presented at Fashion Pakistan Week 2015, Winter Festive and Telenor Bridal Couture Week. From drawing earnest inspiration to crafting and honing the designs, her dresses are no less than stories that portray strong emotions.
Commercially Yours
Every bride wants to turn heads on her big day and these commercially famous designers can be your go-to options to get your wedding dress.
Nomi Ansari
If you are among those brides-to-be who are daring enough to branch out on their wedding day without going overboard, Nomi Ansari can design a dress for you that will fulfil your desire.
His design sensibilities encompass elaborated embroidery and incorporation of traditional work that do not result in just an outfit but a colourful tapestry.
Elan
Sheer elegance and class are synonymous with Elan's bridal wear and the brand is definitely a class apart from others. Getting yourself a bridal dress by Elan means embodying luxury, intricate embroidery and modern silhouette all in one dress.
Bridal Specialists
There is no better option than getting your bridal dress made from an ace bridal designer. While the above lot is famous for both bridal wear and other categories, following designers are regarded as the bridal wear specialists.
Asifa and Nabeel
The amazing duo of Asifa and Nabeel are considered as experts when it comes to bridal wear. Their bridal dresses juxtapose finesse, attention to detailing, mix and match. Exuding a royal feel, each dress by the label looks utterly- eye catching. Playing with luxurious fabrics and adorning them with right embellishments is where the forte of this duo lies.
Saira Rizwan
Although, the label was founded in 2007, but the real fame came to the brand in 2011 when it showcased its collection at the fashion week. Since then, fashion enthusiasts await every bridal week season  to witness the amazing crafts designed by the designer. The brand has just launched its latest Fall/Winter '15 collection and the assemblage screams everything chic. Her designs masterly manifest a contemporary feel while keeping the traditional elements alive.
Which one of these bridal designers is your favourite? Let us know in the comments below:
Stay tuned to Brandsynario for further updates!