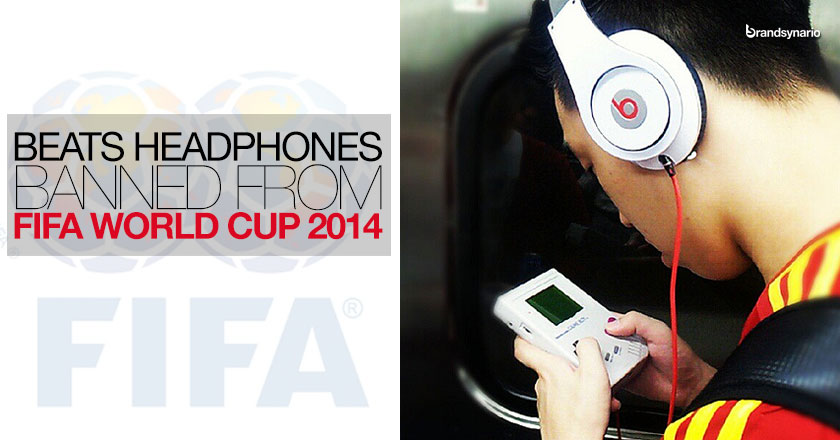 Beats headphones by Dre have been officially banned from FIFA World Cup 2014; the reason isn't a controversy or a scandal but their undying loyalty among soccer players. 
The FIFA World Cup 2014 brought a golden opportunity for numerous brands to connect with their target market; brands including Nike, Adidas, Coca-Cola, McDonald's and Sony spent millions of dollars to be the preferred choice of soccer players but beats by Dre,  turned out to be the only one to be their one and only actual choice.
Famous soccer players including Neymar were spotted wearing Beats' brightly colored headphones on various occasions despite the fact that Sony, the official sponsor of Word Cup 2014 gifted all 736 players a set of its own high-tech headphones.
Beats' popularity among famous soccer players didn't go well with Sony resulting in an official red-tape ban from all FIFA media events and fields but the damage has already been done as according to Ellen Petry Leanse, a former Apple and Google executive,
"When fans see World Cup athletes wearing Beats in their downtime, by choice, it has as much impact as seeing them lace their Adidas (boots) or sip a sponsored beverage, Maybe more, actually—Beats isn't a sponsor, so the message is more authentic and credible."
This isn't the first time that a competing brand has taken the center stage away from the main sponsors in a sporting event; during Sochi Olympics, Samsung – the official sponsor, complained that athletes walked around using Apple iPhones.
For Beats, FIFA World Cup turned out to be a successful marketing gig without even spending million. Beats' FIFA World Cup ad too received widespread appreciation and took the limelight away from Nike and Adidas – the official FIFA sponsors.