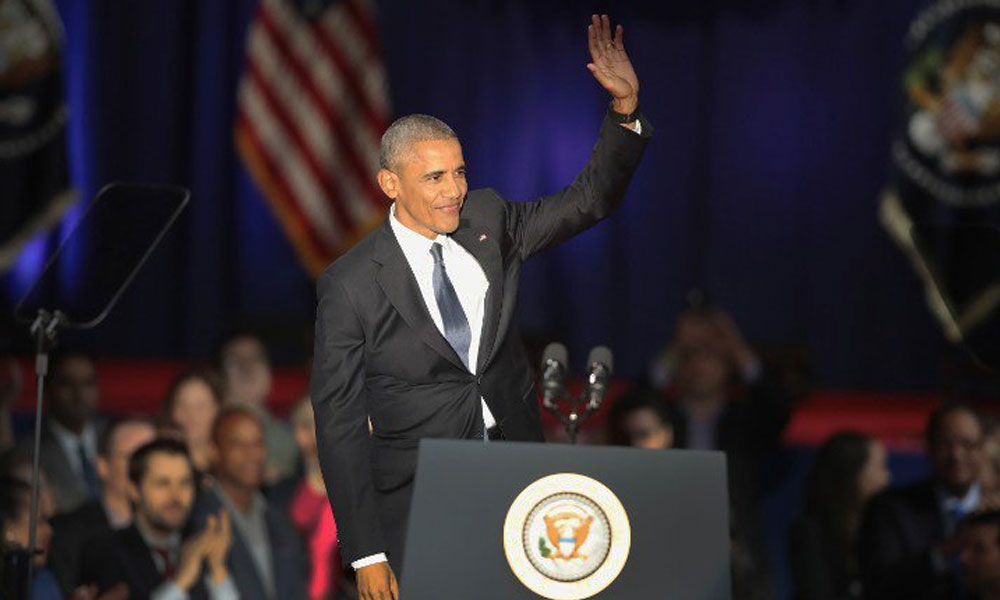 The President of the United States Barack Obama returned to his hometown to give his presidential farewell speech last night. The speech focussed on giving the people of the United States hope and change, the two things that got Obama elected in the first place.
Obama thanked his wife, First Lady, Michelle Obama, his voice catching with emotion for her continuous support and this made him tear up. The tears on stage from the first family on this emotional night echoed with thousands of US citizens who are fearful and deeply concerned due to the incoming Trump government.
Vice President Joe Biden also teared up after Obama addressed him during the speech. This is what he said, "I've gained a brother…your friendship has been one of the great joys of our life."
Watch Barack Obama's full address here!
President Obama ended his speech full of positivity and humbleness with,  
"Yes, we can. Yes, we did. Yes, we can."
The farewell address caused a buzz on the internet and Obama supporters from across the globe took to Social media to praise him and his insightful words.
Take a look at what Celebrities from all over the World are saying! 
.@POTUS @BarackObama I love you more than I have space on Twitter to describe. #ObamaFarewell

— Ellen DeGeneres (@TheEllenShow) January 11, 2017
President Obama is a good man who has made our economy, country, & planet safer – & has given us hope. Thank you, @POTUS. #ObamaFarewell

— Elizabeth Warren (@elizabethforma) January 11, 2017
.@BarackObama's farewell address was inspirational. You served your nation well, Mr. President. Thank you @POTUS. #ObamaFarewell

— Larry King (@kingsthings) January 11, 2017
Some folks, even to this day – #ObamaFarewell – do not understand that the believable change happened the day he was elected.

— Jeffrey Wright (@jfreewright) January 11, 2017
Mood. #ObamaFarewell pic.twitter.com/ycNsGbnk3R

— NE-YO (@NeYoCompound) January 11, 2017
.@POTUS @BarackObama made me proud to be an American as he reminded us of the power of democracy & unity. #ObamaFarewell

— Earvin Magic Johnson (@MagicJohnson) January 11, 2017
America right now. #ObamaFarewell pic.twitter.com/GG19FlTVtu

— Elon James White (@elonjames) January 11, 2017
YES WE CAN #obamafarewell

— kerry washington (@kerrywashington) January 11, 2017
Thank You Mr. President. #ObamaFarewell pic.twitter.com/koSabtPy3K

— Ciara (@ciara) January 11, 2017
"My fellow Americans, it has been the honor of my life to serve you." — President @BarackObama 👏 👏 👏 #ObamaFarewell pic.twitter.com/AlnmaWf5Tp

— People Magazine (@people) January 11, 2017
AMERICA, PLEASE JOIN ME IN A FULL ON UGLY CRY #ObamaFarewell

— Robin Thede (@robinthede) January 11, 2017