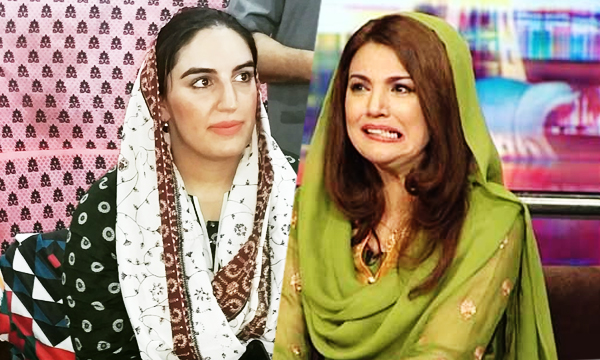 It is no secret that Reham Khan is at a full-fledged war with Pakistan Tehreek-e-Insaaf Chairman and ex-husband, Imran Khan.
Consequently, she often gets trolled by fans of Kaptaan and a recent incident that happened with Reham in U.K is no different.
A video of the journalist with her son, Sahir Rehman in a park in Kingston, England is going viral, showing a woman harassing Reham for being anti-Imran Khan.
The lady taunted Reham of having a mentality like Ayesha Gulalai and badgered her with accusations of defaming the PTI politician.
However, Reham did not lose her cool and tried to be polite to the troll. However, the critic remained committed to harassing and antagonizing her.
Even haters of Reham Khan are lauding her for showing grace and being patient towards the tormentor.
"If Allah sent you, he could've sent someone more intelligent" lmaoooo.

But seriously, this video is so infuriating. Props to Reham for staying so calm and collected. https://t.co/EEwwR8HQLT

— Mahnoor Ahmed (@MahnoorZAhmed) August 7, 2018
Absoulety disgusting behavior towards @RehamKhan1 … you don't have to like her but this is harassment. Everyone should be able to walk the street with their kids in peace. https://t.co/V1tchN4FyG

— Mahdia (@MehdiaTime) August 6, 2018
this behaviour is highly deplorable. IK is responsible for this. I suggest people should start doing the same with PTI leaders. Only then they will realize.

— Tariq Alvi (@TariqAlvi18) August 6, 2018
Benazir Bhutto's daughter, Bakhtawar Zardari daughter too saw the viral incident and praised Reham for remaining unfazed throughout!
All the video did was made me a fan of @RehamKhan1 for being so patient & tolerating troll harassment – the PTI supporter should spend less time harassing another woman & stop leader worshipping someone who has been aggressively against women rights & pro Taliban justice. https://t.co/BAEEPcXKQB

— Bakhtawar B-Zardari (@BakhtawarBZ) August 7, 2018
Of course, Reham responded to her with courtesy and thanked her for taking a stand against hate.
Bless you. MashAllah! Now this is good upbringing. We loved your mother & everytime we see you all out there we pray silently for your safety. More power to youngsters like you who have courage to denounce hate & violence. https://t.co/vQPwAr1Amf

— Reham Khan (@RehamKhan1) August 7, 2018
What do you think of Reham Khan's incident in U.K? Let us know in the comments below.