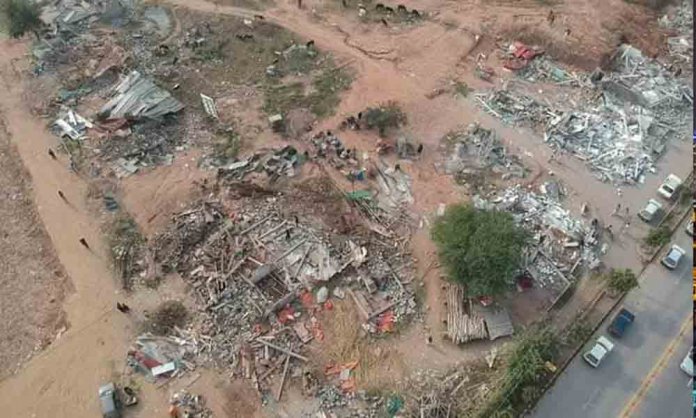 With Pakistan's anti-encroachment drive in full swing, the Capital Development Authority (CDA) and Islamabad District Administration (ICT) have kickstarted an operation to vacate the illegally occupied land in Islamabad.
Bahria Enclave, a housing scheme by Bahria Town in Islamabad, was also issued a notice by the CDA on 9th November 2019 to vacate 510 kanals land within a week.
Grand Hyatt Hotels Are Coming To Pakistan in Collaboration With Bahria Town!
Upon the expiry of the deadline on 16th November, CDA team went on to conduct the operation last Friday but it was called off by their senior officials for unknown reasons.
However, when CDA decided to implement it on 3rd December, it turned out that the job was already being done!
CDA moved its machinery and staff to #BahriaEnclave to retrieve encroached state land but they did not enter the main gate claiming the housing society had voluntarily agreed to remove the encroachment on its own. pic.twitter.com/7ZStfyv0Hr

— Syedih (@SyedIHusain) December 4, 2018
As the CDA team went on to retrieve the encroached land on Monday, the Bahria Enclave Authorities stopped them at the gate and voluntarily started demolishing illegal constructions on its own.
According to Dawn News, the housing society had partially removed the main gate of the enclave by late night before the enforcement directorate officials along with the police reached the main gate. Several shops attached to it were demolished as well.
A CDA official stated:
"Almost 20 kanals adjoining to the gate have been retrieved".
Finally action been started in #BahriaEnclave a symbol of Power been challenged by #PTI …was this possible in past pic.twitter.com/xkvxo8a8ZL

— IKJeetKaNishaan (@ImranUsafzai) December 3, 2018
Along with the Medical Care City building, different commercial buildings are being vacated for demolition by the Bahria Enclave Administration. The Red Chilli Restaurants has also been vacated according to a press release issued by the CDA.
BEHRIA TOWN ISLAMABAD DEMOLISHED NO Coverage by any news Chanel
According to Bahria Enclave's recent letter in response to the CDA notice, 400 kanals out of the total 510 kanals are lying vacant to be taken over by the government.
#BahriaEnclave #BahriaTown #BTK#encroachment #Islamabad pic.twitter.com/fbeWjhptAt

— Affan Siddiqui (@saysiddiqui) December 3, 2018
Their officials have claimed that the remaining 110 kanals land was a public are, including a free dispensary and children's park and a zoo, and the Bahria Enclave Authorities are willing to pay the CDA for it.
Supreme Court Bars Bahria Town Karachi From Sale, Purchase of Land
Stay tuned to Brandsynario for more updates and news!