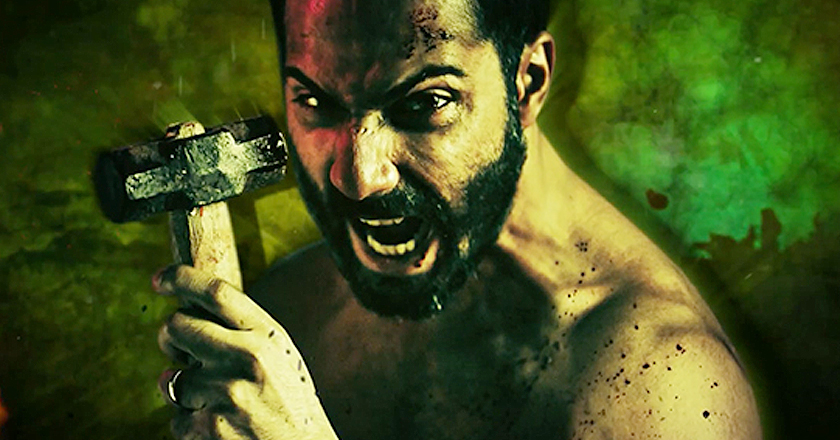 Humpty Sharma has shed his chocolate hero attire to adopt a more edgy look and how aptly so! Varun Dhawan's new flick Badlapur, a neo-noir thriller has stunned the Bollywood fraternity and audiences alike.
The story, his acting and performances by other cast members have made the movie an almost perfect hit.
Ofcourse, the movie is not without its flaws but considering it being a thriller, it has made its mark with its unpredictable storyline and excellent performances, especially by Varun Dhawan and Nawazuddin Siddiqui.
The movie revolves around a dejected man, Raghu, who is devastated over the death of his wife, played by Yami Gautam, and his son in a random bank heist.
Once he finds about one of the criminals involved in the robbery, Nawazuddin Siddiqui, he sets out on a path of revenge. During the complex revenge saga between the two main characters, the movie treats the supporting female casts, Huma Qureshi, Pratima Kannan, Divya Datta and Radhika Apte in rather undue contempt.
The character of Raghu is played brilliantly by Varun Dhawan, showing he can act in all characters and form.
Nawazuddin Siddiqui as the criminal, Laiq, is perfect as usual, so much so that he steals the limelight from Varun Dhawan to an extent.
What stands the movie's two main characters out from other predictable vengeful hero-villains duo is that it doesn't portrays them as black and white, good and bad. It shows them in the true human form, as shades of grey, where heroes commit wrongful deeds to satisfy their thirst for revenge.
With movies' crisp direction, the beautiful songs, the seamless transition of a fairytale hero to a vengeful man, the unpredictable twists and brilliant performances by the star cast, Badlapur is a must watch for anyone looking for a thriller this weekend.
Here are some Twitter reviews by celebrities and critics, praising the movie, Badlapur:
Badlapur- Fifty Shades of Dark, Delirious & Deadly! ???? Sriram, Pooja, Nawaz, @varun_dvn & all cast & crew-check it out-if you can handle it!

— Rohan Sippy (@rohansippy) February 20, 2015
#Badlapur is absolutely stunning! @Varun_dvn made me so so proud! He is exceptional!!! And it's doesn't get better than nawaz!! Must watch!!

— Karan Johar (@karanjohar) February 18, 2015
You need a strong stomach to absorb the revenge saga #Badlapur. The premise may be simplistic, but the twists/turns are unconventional.

— taran adarsh (@taran_adarsh) February 18, 2015
Just saw @Badlapur..A psychological roller coaster to savour! Big shout out to #sriram raghavan @Varun_dvn #anilmehta @Nawazuddin_S. KILLER!

— homiadajania (@homiadajania) February 17, 2015
#BADLAPUR ????holy hell, u must watch! ??????

— Nargis (@NargisFakhri) February 19, 2015
Film to watch @Badlapurfilm amazing performances #keepingitreal varun_dvn @jazbattifun #badlapur… http://t.co/0SEVVA3fRP

— Anaita Adajania (@Anaita_Adajania) February 19, 2015
I wld say good luck @Varun_dvn but u don't need it! #BADLAPUR looks fantastic!! & u did good buddy!! It's going to blow ppl away!! Rock on!

— Ileana D'Cruz (@Ileana_Official) February 19, 2015
Watched Badlapur last night. Its a Crazy Good Film from the very First frame. @Varun_dvn what a performance. Madness in the eyes. Loved it.

— Shashank khaitan (@ShashankKhaitan) February 16, 2015
Watched @Varun_dvn 's BEST performance till date! He is simply outstanding in @BadlapurFilm

— Rohit Khilnani (@rohitkhilnani) February 17, 2015
#Badlapur rests on bravura performances. Nawazuddin has a chameleon-like trait. Embraces his part with brilliancy. Backbone of this thriller

— taran adarsh (@taran_adarsh) February 18, 2015
@Nawazuddin_S is his brilliant self , just incredible how he can just be anything you want hm to be in a film #Badlapur

— Salilacharya (@Salilacharya) February 17, 2015
. @Varun_dvn and @Nawazuddin_S shine in Sriram Raghavan's dark revenge drama! Movie Review => http://t.co/dnh7nboHoI pic.twitter.com/8prx18lvd3

— Indicine.com (@indicine) February 19, 2015
All the best to my #dishoom co star @Varun_dvn today!!! #badlapur all the way!!!!

— Jacqueline Fernandez (@Asli_Jacqueline) February 20, 2015
RAGHU! @Varun_dvn This is my #Badlapur selfie… Mudder kele!! #BADLAPURthisFRIDAY all the best! U gonna kill it. pic.twitter.com/eltyZwDMb7

— Sonakshi Sinha (@sonakshisinha) February 18, 2015
Nawazuddin Siddiqui is God's gift to world cinema.He Defines the idea of Chameleon.U hate him as if he's a Stench n then.. #Badlapur

— Faridoon Shahryar (@iFaridoon) February 17, 2015
#Badlapur is violent, thrilling & emotional. I was in awe of Nawaz, impressed by Varun. a must watch film @Varun_dvn @Nawazuddin_S

— Priya Gupta (@priyaguptatimes) February 19, 2015
@Varun_dvn has OUtdone himself with this Beyond brilliant performance! Never been prouder #BADLAPUR tomorrow! pic.twitter.com/Sx2mbMWvaq

— Shehla K (@ShehlaaK) February 19, 2015