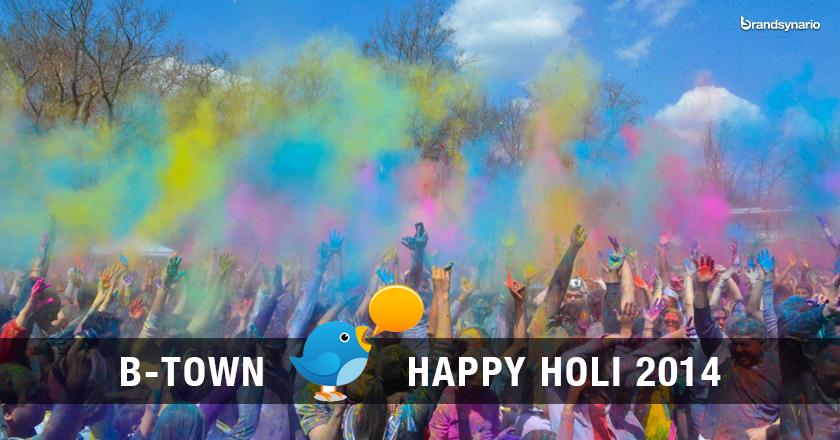 Bollywood industry is incomplete without three things, Twin siblings, foreign locations and Holi celebrations.
The candid affair between B-town and the festival of Holi goes back to early days when angry young man 'Amithab Bachchan' let his guards down and danced on the tunes of 'Rang Barse'. Since then, all major actors and actresses make sure they have atleast one holi number to their names.
This time around, Bollywood stars took to Twitter to wish their fans Holi 2014,
Happy holi beautiful people. Remember the best colors u can apply on someone r d colors of laughter and love! Go have FUN today!!
— Hrithik Roshan (@iHrithik) March 17, 2014
Happy Holi everyone! Paint the town whatever colour u want, but be safe 🙂 #Holi #colours #fun http://t.co/lNir5dbrrz
— Sonakshi Sinha (@sonakshisinha) March 17, 2014
Happy Holi everyone ! be safe and enjoy! =)

— Nargis (@NargisFakhri) March 17, 2014
Wishing all of you a very happy and safe Holi. #HappyHoli

— Sridevi Boney Kapoor (@SrideviBKapoor) March 17, 2014
3 suns!!! And a happy holi everyone!!! http://t.co/2c41Z7vP0x

— Jacqueline Fernandez (@Asli_Jacqueline) March 17, 2014
A special wish for our armed forces, police personnel & disaster management teams, nation wide.. Happy Holi to you all.

— Farhan Akhtar (@FarOutAkhtar) March 17, 2014
Happy Holi 2all my friends in India & all over the world. Have a Happy n colourful Holi & Pls SAVE WATER ! Lotza love always. xoxo :-)Ting !
— Preity zinta (@realpreityzinta) March 17, 2014
With sis @Anjalihooda and bro in law .. Heading to some more young people fun after finishing withkids and parents pic.twitter.com/mfjc6nNvfd

— Randeep Hooda (@RandeepHooda) March 17, 2014
Are you ready to holi? pic.twitter.com/tZeCfnGaqS

— Kalki Koechlin (@kalkikanmani) March 17, 2014