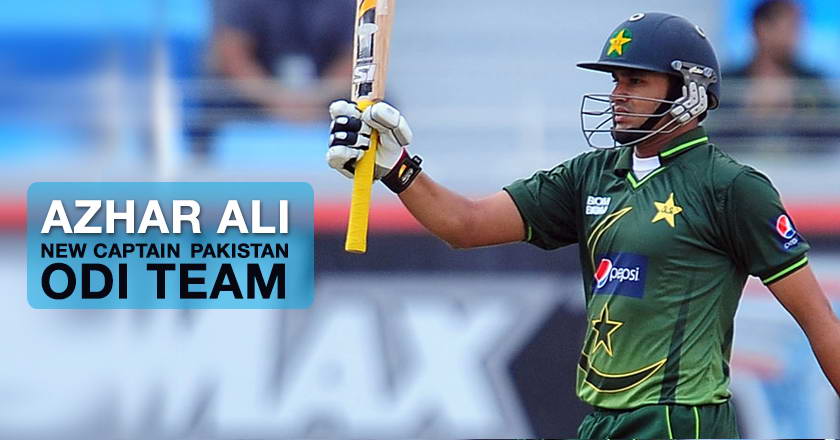 After Pakistan's early dismissal from World Cup 2015, the nation was hoping for an overhaul of the cricket team or at least a new competent captain that has his abilities tested and observed.
But what PCB gave us  is a name that has been heard a few times and whose stats are unknown to many in the ODI format.
On Monday, chairman of Pakistan Cricket Board (PCB) Sharyar Khan confirmed, Azhar Ali as the captain of the ODI team.
Potential candidates were discussed for the ODI captain spot on Saturday as a high-level board meeting was called. The top contenders for the spot were wicket-keeper Test Batsman Azhar Ali, wicket-keeper Sarfaraz Ahmed, Muhammad Hafeez and Wahab Riaz.
According to PCB, the choice was made after consultations from the selection committee, former players along with Coach Waqar Younis and the retiring captain Misbah-ul-Haq, all of whom favored and recommended Azhar Ali to lead the team in tough times.
Azhar Ali is a relatively unknown player having played his last ODI at Kolkata against India on 3rd Jan 2013.
His previous records have been compared by some to be close to Misbah's. Anonymous – Patient – Unknown  – that's all we know about Ahzar Ali so far. 
Azhar has played in 39 tests and has scored 2851 at an average of 41.31.
In the ODIs he has managed to score 452 runs at an average of 41. The newbie has managed to achieve a strike-rate of 39 and 64 in test matches. His stats are given below:
For a nation who sacrificed their sleep hunger and happiness only to see the team lose, the news came as another blow causing an uproar on Twitter. While some are still hopeful, majority seems to have rejected the new captain right away.
See some of harsh yet funny reactions here:
Selection of Captain in Pak Do u play Odis:No Do u have good SR:No Whn was last time u played ODI:2013 CONGRATZ,u r new captain #AzharAli

— Saad Rafique (@saadrfq) March 31, 2015
#AzharAli wrong number hy ??

— Shehnila (@ShehnilaMehsud) March 28, 2015
Pakistan is the only country where a reserve player can instantly become captain & a captain become reserve player. #AzharAli @najamsethi

— Haider Nakvi (@HNakvi) March 28, 2015
So Azhar Ali is the next ODI captain for PAK! His strike rate is 64,even worse than Misbah's 73. Abb Misbah ko yad karo! #AzharAli

— Saad Rafique (@saadrfq) March 28, 2015
Interested in knowing how much time #AzharAli will be given as captain before board loses patience (and replaces him with Sarfraz :p)

— Hafsa Adil (@hafsa_adil) March 28, 2015
Pissed off more than #MaukaMauka guy at PCBs decision. #AzharAli named captain

— Shaheer Khuhro (@shaheerkhuhro) March 28, 2015
#AzharAli ODI captain and Qaim Ali Shah youth minister. 😀 Anything can happen in #Pakistan #cricket #ruined

— Shaheer Khuhro (@shaheerkhuhro) March 28, 2015
Whozzat? #AzharAli

— Natasha (@OhTripe) March 28, 2015
I will be wearing black tomorrow to mourn the death of #cricket in #Pakistan 😀 #AzharAli named captain

— Shaheer Khuhro (@shaheerkhuhro) March 28, 2015
Holler in the comments section whether this placement is justified or not?