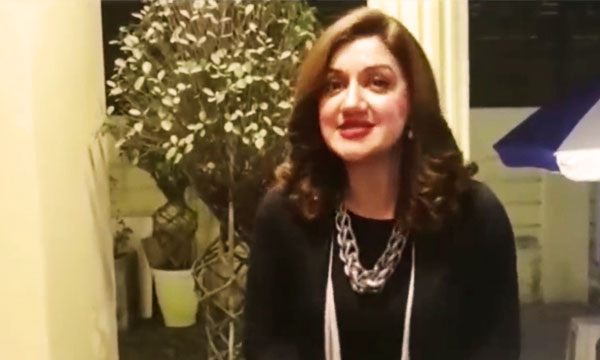 UPDATE: Ayesha Sana has managed to convert her viral disaster into a PR win! The popular TV anchor has endorsed the upcoming film#Bachaana with her iconic#brightkarein controversy.
Kudos to her for being able to have a laugh at her own joke. In the video, she urges the viewers to watch the upcoming Pakistani romantic thriller Bachaana, starring Sanam Saeed and Mohib Mirza.
Watch video below:
[dailymotion id="x3tkk2e"]
The real reason behind Ayesha Sana's outburst, as it has recently emerged was the fear of her husband (Managing Director of a renowned Television Channel) harassing her. She may have gone through some difficult times in the past, but kudos to her for turning the controversy into a great PR stunt.
We finally got to see a warm side of Ayesha Sana when she urges the director while laughing, "Director sahab, iss movie ko bright toh karen".
---
Ayesha Sana has done it again! Another video of the renowned host's uncharacteristic outburst has gone viral on the Internet. This time, Ayesha Sana was heard abusing a volunteer makeup team in London! Ayesha screams her head off at the ladies, who are just trying to fix the host's show. The video, clearly made by one of the makeup team, goes on for 3 minutes.
Watch the video below:
[fb_embed_post href="https://www.facebook.com/PakHungama/videos/10153756421113162//" width="550″/]
Previously, her tantrum on a set went viral when the host was seen insulting the crew members in a fit of rage.
This caused a huge uproar on social media. Several notable models also made fun of the outburst in a Dubsmash video. Watch the video below:
It seems this lady really needs some anger management classes! We can only wait and see what kind of reaction this video will bring!