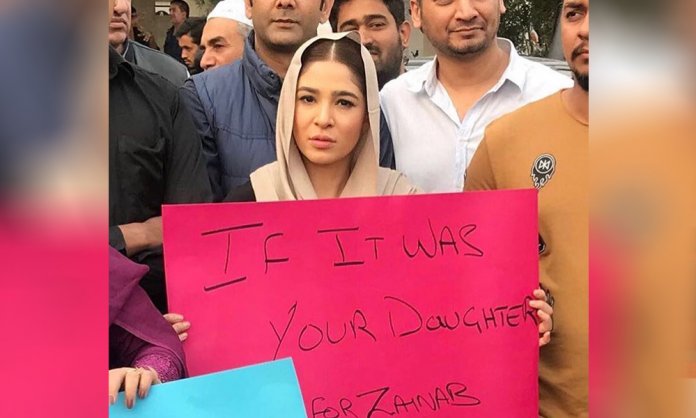 It is rightly said that 'smallest coffins are the heaviest'. The barbaric rape and murder of the seven-year-old, Zainab in Kasur has created a mighty pandemonium in the whole of Pakistan.
A wave of melancholy has engulfed the entire nation as people are grieving the brutal death of the innocent soul.
Countrywide protests have erupted where citizens are demanding strict punishment to be taken against the heartless animal who killed the minor child.
Celebrities have joined in the outcry and are raising their voice on the crucial matter. Some have taken to Karachi's press club to join the sit-ins. The rest are using the power of media to express their deep sorrow.
Yesterday, various Pakistani big-wigs took part in a peaceful protest initiated by Juni Zeyad at Karachi Press Club. Spotted were luminaries like Mahira Khan, Hina Bayat Khan, Sanam Saeed, Jibran Nasir, Adil Murad and Shehzad Roy.
Model and actress, Ayesha Omer also took part in the protest & played her role in bringing justice to Zainab.
She blared a poster with a powerful message, urging the public to feel more sympathetic towards the atrocious incident.
Shockingly, keyboard warriors were miffed by her attire at the protest!

They are bombarding her with extremely repulsive comments even though she had covered her head and appeared pretty dignified!

They even brought in her item song from Lahore Se Aagey to disgrace her further

And for some reason trolls were blaming Pakistani starlets for rape cases in the nation!

These social media vultures used extremely abusive language for both Mahira Khan and Ayesha.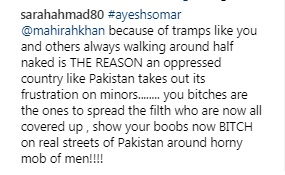 However, Ayesha was quick to respond to this haters & revealed that her head cover was not to seek sympathy!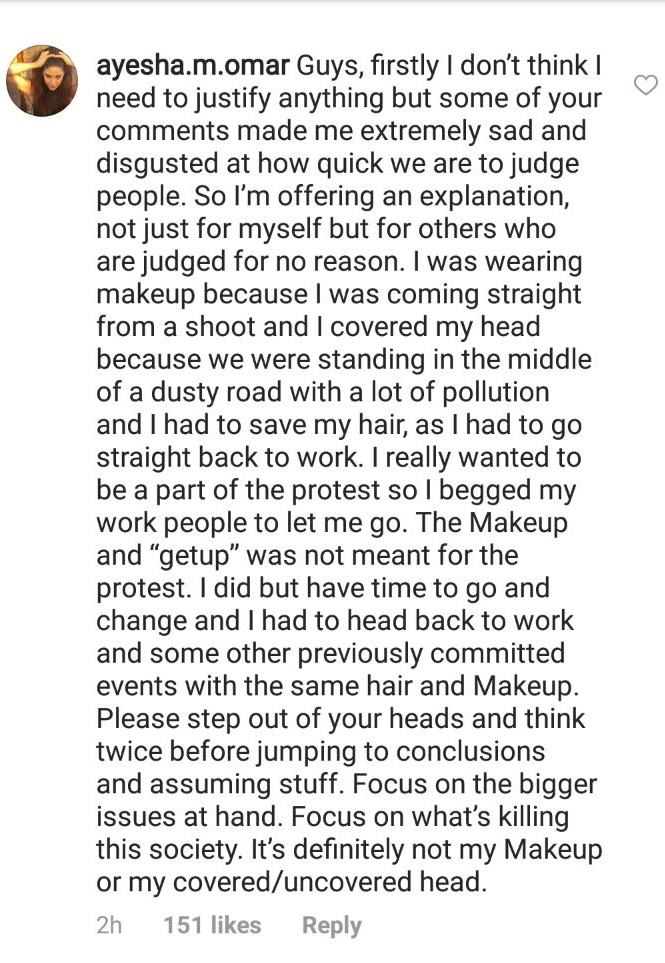 She also enunciated that this is NOT the time to create hate but to raise our voices against sexual abuse.
Apparently, Pakistanis can never be happy! The express their loathing over celebrities wearing skimpy clothes or doing dance numbers
However, they even manifest their outrage when somebody is doing a good deed and helping humanity.
It is about time we live and let live! As a nation, we need to talk more about how we need to make this place a better place to live in.
Stay tuned to Brandsynario for more updates!