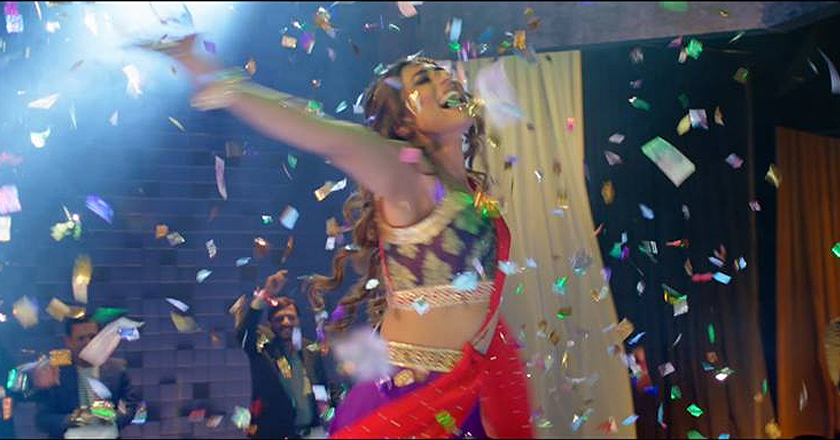 With her seductive new dance performance in 'Karachi Se Lahore', Ayesha Omar is all set to follow in the dancing footsteps of Humaima Malick in 'Raja Natwarlal', Mehwish Hayat in 'Na Maloom Afraad' and Zhalay Sarhadi in 'Jalaibee' – although that last one wasn't quite so much of an item number.
Read More: 'Karachi Se Lahore' Pre-Launch Event
Watch the teaser of Ayesha Omar's item song below:
Item numbers are all the rave now, not just in India but in Pakistan too.
The movie makers are sadly under the impression that the audience will boo and throw popcorn if they make a movie without a raunchy music number with a sultry female actor prancing about, revealing her curves and generally having nothing to do with the movie itself.
"Karachi se Lahore is a romantic comedy, a home-grown Pakistani road trip movie about a group of five people travelling from Karachi to Lahore for a specific purpose," Wajahat revealed in an interview with Dawn.
"They go through this roller-coaster journey to get to their destination and end up finding themselves in the process."
Karachi Se Lahore, a rom-com sponsored by Walls Pakistan, has been produced and directed by Wajahat Rauf. The star cast of the movie includes Javed Sheikh and his son Shehzad Sheikh, Ayesha Omer, Yasir Hussain – who also wrote the script for the movie, along with Ahmed Ali, Rashid Naz, Eshita Syed and others.
The movie is expected to release later this year.