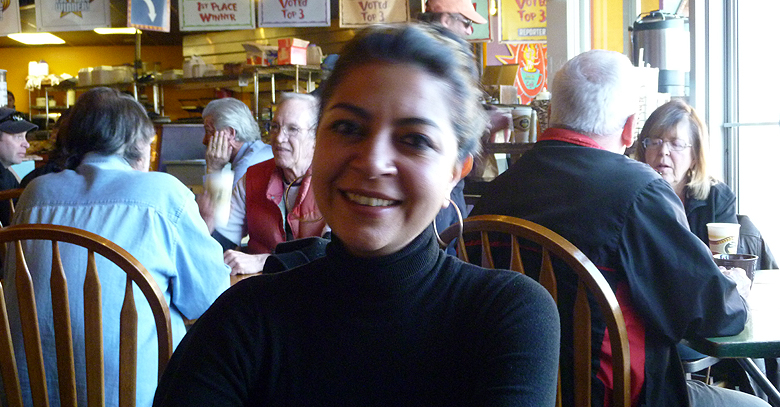 By Synergyzer
Sante Fe Film Festival acclaimed filmmaker Ayesha Khan talks about her experience with Hollywood and producing films in the USA and the acceptance needed in our film industry for diverse topics
Question 1: Please give your educational and professional background.
Ayesha Khan: I did my high-school from United World Colleges in Victoria, British Columbia, Canada, and graduated with a Bachelor in Arts for Theater and Religion from Mount Holyoke College, USA. I trained in theater at the Eugene O' Neill Theater and the Royal Academy of Dramatic Art in London.
Currently, I'm the CEO of Indus Valley Productions and I.KHAN.INC, a real estate company based in Manhattan, New York, USA.
Question 2: You wrote, produced and directed a feature film Kashf – Lifting of the Veil, and executive produced a documentary recently, Made in Pakistan. What inspired you to explore these subjects?
Ayesha: The story of Kashf revolves around Sufism and the Sufi Shrines of Lahore. I decided to explore these Sufi Saints through the eyes of the main character, Armaghan, who, upon his return, to Pakistan finds himself caught in a web of mystical experiences. The experiences Armaghan's character undergoes are based on true stories that have very generously been passed on to me by real people on the Sufi path.
I also explored Lollywood's raw cinema through one of the characters, who plays a film director in the movie. The film basically revolves around the inner and outer journeys of these two characters.
'Made In Pakistan', the documentary, emerged from the Newsweek article where Pakistan was labeled the 'most dangerous country in the world'. The documentary followed four working professionals in Pakistan to debunk the notion of the 'most dangerous' label placed on us by the western media.
Question 3: You have never been granted exhibition in Pakistan. Why is that? What are the problems with distribution and screening that you face? How can these be resolved?
Ayesha: Since Kashf was one of the first independent films to be made in Pakistan almost 4 years ago, the concept of distributing independent films was not around. We were the headline film at the LUMS Film Festival in 2010 where more than 1500 people showed up to see it.
I met with all the major distribution players in the market at the time and although they all saw and applauded Kashf as a film, no one stepped up for a distribution deal.
Now, four years later, when a whole slate of independent films is being screened in the cinemas, I would like to think that we at least planted the seed.
Releasing Kashf in Pakistan is not a priority for us right now as it has already been screened in 70 countries and continues to screen abroad and my next script has been optioned and being set up in Hollywood.
Question 5: What is the current film project you are working on?
Ayesha: It's in the action-adventure genre with a budget of US $100 million, it's been optioned by a producer and will be done by a major studio. Yes, Hollywood has opened the door and we gladly walked through it. In fact, I'm stunned by the interest and am also working on the final draft of another script which has also been optioned.
Question 5: You were picked up by the Doris Duke Foundation as the sole Pakistani filmmaker to tour five USA states alongside Arif Lohar – tell us about that experience.
Ayesha: That was a fantastic tour funded by the Doris Duke Foundation to bring Pakistani culture into the heartland of the US. We went to New Hampshire, Rhode Island, Montana, New Jersey and New York.
I gave close to 50 or more lectures on Pakistan to packed auditoriums and cinemas, met some wonderful people on the tour and was pleased as to the amount of genuine interest on the part of the American audiences vis a vis Pakistan. There's a documentary being produced on the tour, currently being edited in the US.
Question 6: Tell us about your experience with being a board member of the Santa Fe Film Festival. How does it function and awards filmmakers?
Ayesha: We premiered Kashf at the Santa Fe Film Festival and it turned into the must see film of the festival that year with Ali Macgraw, the acclaimed American film actress, giving it a rave review. Soon after the festival, Kashf started getting booked into cinemas and universities across the USA.
Last year, the festival approached me to sit on the Board. I was honored as it's a very special film festival and has played host to wonderful talent like Jeremy Irons, Shirley Maclaine, Tommy Lee Jones, Christopher Lloyd, Joan Allen and others. To sit on the Board and be part of the decision-making is a big responsibility as well as very fulfilling for someone involved in the film industry.
The Board is responsible for overseeing budgeting, hiring key personnel, sponsorship etc. It's a huge commitment but everyone involved has a passion for film and supporting the best of world cinema. Each year, films we screen go onto nominations and wins at the Academy Awards and Golden Globe Awards. We have incredible programming and a very dedicated staff, but the festival's main focus are the wonderful filmmakers whose films are selected and we go out of our way to make sure they have access to the audience, press, distributors and producers who come to the festival.
Question 7: On what basis do you decide your topics, in general?
Ayesha: At the heart of it, filmmakers are story tellers; wanting to tell a great, entertaining story and that's what my motivation is too.
Question 8: How do you finance your movies?
Ayesha: We only financed the first two and due to their success in the USA, have no shortage of investors and have a whole slate of projects in development. With Hollywood in the picture now – it's a whole other ball game.
Question 9: How do you earn revenues from your film company?
Ayesha: Kashf continues to screen, both in the educational market as well as internationally for which we charge screening fees. Our company, Indus Valley Productions, consults on a lot of film projects for independent as well as mid-budget Hollywood movies. Also, the company earns through my scripts that are optioned.
Question 10: What, in your opinion, should be done to promote films in Pakistan?
Ayesha: My own experience with Kashf and not getting distribution in Pakistan has made me realize that the whole game is about gaining access to exhibition venues i.e. cinemas. Since I have a very established name in the real estate industry in the USA, I've been approached by a major international cinema chain to enter into the Pakistani market and establish the cinema screen business here. We are currently in talks with them as well as local players. I'm excited by the possibilities both from an exhibition view point as well as what it would do for the resurgence of the Pakistani film industry. With more cinemas, you will have a wider distribution network which is essential for box office success.
Question 11: What advice would you give to budding filmmakers?
Ayesha: Only enter the field if you have a passion for it – don't go into it for the glamour, it's a tough business and not for the faint of heart. But if you are set on it, work on your craft with complete dedication and only then enter it if it's the only thing you want to live and breathe day and night. Yes, it's that hard.