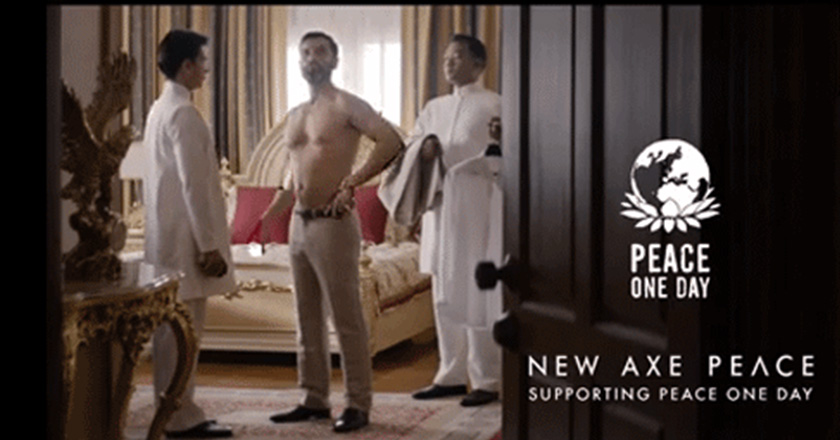 With the fervor of Super Bowl heightening up; the brands sponsoring the mega sports event are coming up with innovative advertisements for the upcoming season. The premium body spray company, Axe however has ventured for a highly inventive advertisement focusing on peace and love.
The recent Axe Super Bowl commercial depicts various armies on famous battlegrounds of Vietnam, Middle-East and Word War II.
One man loads the gun while the other charges for a bomb; a tank rampages the area and with all this dreary effect, the men on the field slowly share a romantic moment with their better halves celebrating love instead of war.
The tagline which says, "Make Love Not War" endorses the current line of Axe fragrances, "Peace" whose shortened 30 second ad will go on air on 2nd Feb during Super Bowl.  
Bartle Bogle Hegarty or BBH, the British agency responsible for the marketing wanted this year's campaign to be as different as last season's one when it launched the "Apollo" line.
Deputy executive director at BBH London told media, "It dawned upon us that we could do something good, and use our influence over those markets positively."   
To get out of the same old consistent style of advertising, the brand got together with Peace One Day Non-profit Organisation which aims at promoting harmony and awareness about International Peace Day on September, 21st.
Axe gave $250,000 as charity to promote the campaign via its ads and Facebook.
The slogan "Make Love Not War" dates back to the 60s movement for peace and is a sharp turn from Axe's typical sexist advertisements that usually show women losing control over men who are dripping wet in Axe scents.
Axe's focus on guys casting an impression on girls can never change but this approach can definitely make things milder.
As reported by New York Times, hashtag of #KissForPeace will be used to support the Peace organization and the brand will ask the couples to share their pictures of lip locking.
Mathew McCarthy, the senior marketing director for Axe told the Times, "We know for that brief moment when a guy and a girl are kissing that the world is a more peaceful place."
Axe's new attitude is definitely remarkable and the romantic touch given in the ad will cause many to be wooed by the brand, which at times made sexism a little too evident.