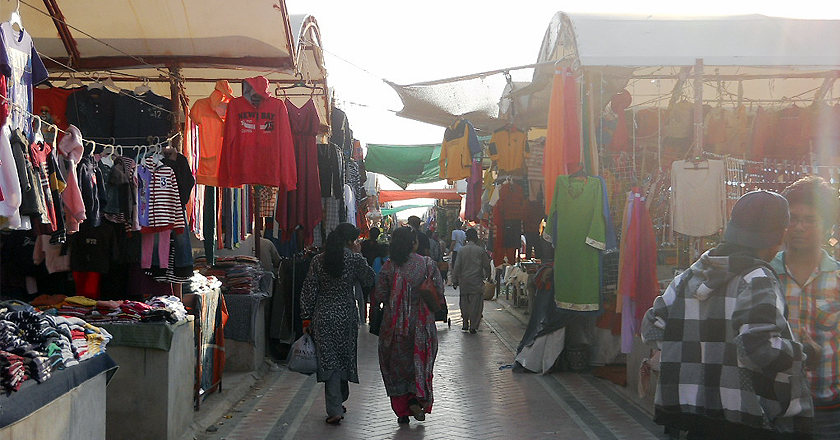 There seems to be no better way to spend a lazy Karachi-esque Sunday afternoon than at everyone's beloved Sunday Bazaar, Defence.
Rebranded as the 'DHA Sunday Bachat Bazaar', it's easily one of the most popular spots in Karachi. Originally just a market for fruits, vegetables and low end or used goods, the bazaar has grown into a cultural shopping hub for Karachiites. But what's this? The bazaar has been closed down!
According to Dawn, authorities said that the facility had been set up on private property and their agreement with the market organizers finally came to an end last year.
"An agreement was made with the Sunday Bazaar shopkeepers that expired on December 31, 2014, which allowed them to operate their stalls on that property," said the DHA spokesman.
Apparently, the shopkeepers were aware of the situation and there was no probability of a contract renewal.
"When the date passed, we told them over and over again that the time is up and they should vacate as the agreement was for a stipulated time period."
The Welfare Association of Field Organizers of Weekly Bazaars Karachi is seemingly okay about it and are on the hunt for alternatives.
"We all know that it was a well-established and household name for many Karachiites," said Riffat Ali of Welfare Association of Field Organizers of Weekly Bazaars Karachi.
"But obviously there are legal and moral bindings to vacate that place. The traders have already spotted a place or two in this regard, but it would take time to finalize the place and then move to the authorities for permission through the legal process."
Looks like we're going to have to wait and see when our beloved bazaar is back on the tracks!