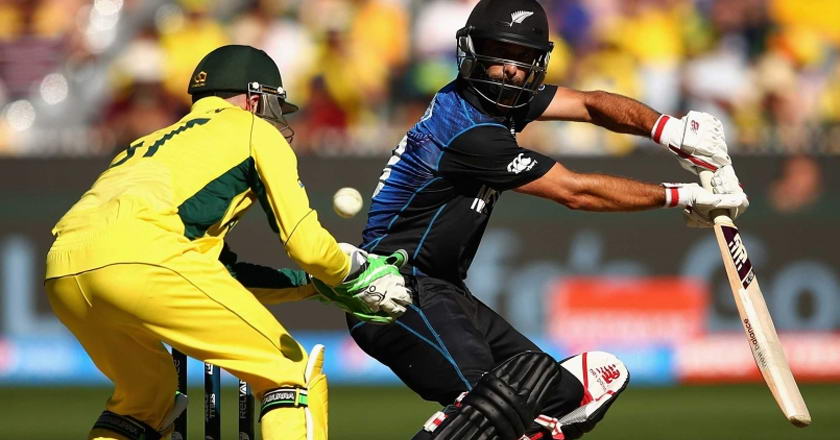 If there was ever a day when giants of the cricketing game, with big-tournament pedigree, could once again stake their claim for eternal greatness, then the final of the 2015 ICC Cricket World Cup is that very day!
Restricting New Zealand to a mere total of 183, Australia looks ready to take the World Cup home once again.
The unbeaten New Zealand team and the Mighty Aussies have been the two best teams of the tournament. New Zealand reached the final for the first time in their history following their win over South Africa in the first semi-final of the tournament, while Australia brushed aside reigning champions India in one of the most one-sided matches in this edition of the World Cup, and successfully entered the World Cup final for the seventh time in their history.
The final of the showpiece event is currently on-going  at the legendary Melbourne Cricket Ground in Melbourne, Australia, at 08:30AM (Pakistan Standard Time). Australia is well on its way to win their fifth world cup.
Aussie fans have already decided to celebrate the big win on Twitter but Kiwi's loyal are still hanging on the tiny thread of hope that New Zealand might defend the total on the field.
See the world's predictions for today's match here:
Go the @BLACKCAPS! #CWC15 final live updates: #AUSvNZ http://t.co/6Dlvk7hDKH #AUSvNZ #CWC15 pic.twitter.com/Ik6sFMyYyX

— nzherald (@nzherald) March 29, 2015
At the moment, Australian Cricket team haters be like: #AUSvNZ #CWC15Final pic.twitter.com/pdrS1xMn9E

— Saad Rafique (@saadrfq) March 29, 2015
NewZealand to Australia: yeh World Cup tumhara hai tum ho pasbaa iss ke #AUSvNZ #CWC15Final

— Saad Rafique (@saadrfq) March 29, 2015
Amazing shot of the record crowd at the @MCG! Will they see the Aussies make history tonight? #GoGold #AUSvNZ pic.twitter.com/uVxMAbdcKB

— cricket.com.au (@CricketAus) March 29, 2015
If Australia has to win evry world cup, why bother wasting 2months watching cricket Would rather do something productive #AUSvNZ #CWC15Final

— Ahil?rious (@Ahilarious) March 29, 2015
MCG right now. If you know what I mean. #AUSvNZ #CWC15Final pic.twitter.com/72zfPUc8nH

— Arif (@Atozai) March 29, 2015
With just eight overs left in the first innings, #AUS fans are feeling pretty confident at the MCG #AUSvNZ https://t.co/hGBDVKCTMU

— Cricket World Cup (@cricketworldcup) March 29, 2015