The Aurat March 2020 was held across the country in honor of 'International Women's Day'. This year's turnout was greater than the previous two years. The march fights for the rights of equality for women, atrocities against children and transgender rights and highlights various other issues prevailing in the society.
#Thisisauratmarch pic.twitter.com/SWyH1VKOhH

— Aurat March – عورت مارچ (@AuratMarchKHI) March 8, 2020

The Aurat March was a great success this year and was held in Karachi, Lahore, Islamabad, Quetta, Sukkur, and Multan. The Aurat March Karachi was held at Frere Hall and began at 3pm.
Hum kisi ki jagir nahi…
Aurat March 2020
Karachi pic.twitter.com/s6gYTD93Il

— Simi Shoro (@simishoro) March 8, 2020
It was great to see families marching together at #AuratMarch2020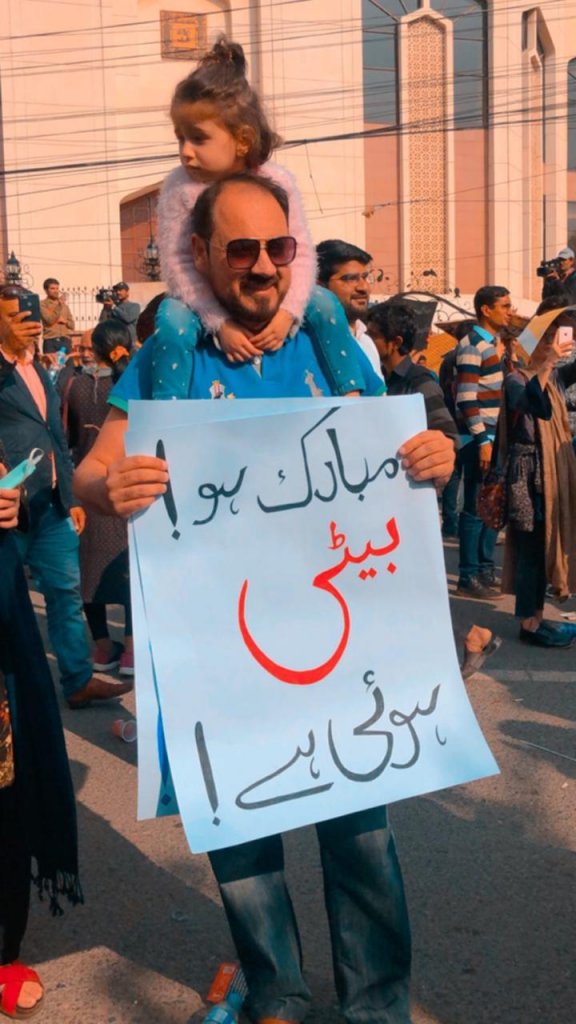 Security for the Lahore March was seen with women police providing security protocol and protecting their women counterparts who were marching for their rights.
Now, this is Women Power at Its Best!
Police guarding the Aurat Azadi March in Lahore

Pic via @Rizwantariq100 pic.twitter.com/pUoXsz9uKK

— omar r quraishi (@omar_quraishi) March 8, 2020
This year also had a lot more men attending the Women's March as compared to the previous two years. Change is inevitable as the saying goes!
Men are changing, and it's about time! #AuratMarch2020 pic.twitter.com/cLTrfNJevR

— Nida Kirmani (@nidkirm) March 8, 2020
One of the most awe-inspiring Moments seen at the march – A human chain made to protect the marchers.
One of the most inspiring moments of the march today. A human wall made to protect from the anti-aurat march protestors that showed up (can be seen in the back with their posters) pic.twitter.com/0YuTiA8WVw

— Manal Faheem Khan (@ManalFaheemKhan) March 8, 2020

This is the change the Pakistani society definitely needs, one such example being the PSL team, Multan Sultan owner, Ali Tareen skipped his team's match to attend the Aurat March!
I am not at Pindi stadium today. Because even though it is important to support your team, it is much more important to support women's rights. And that's why on #WomensDay, instead of the match, I am at #AuratMarch. I have marched every year and this year will be no different.

— Ali Khan Tareen (@aliktareen) March 8, 2020
We need more men like him!
A great way to spend a birthday🎂 #AuratMarch pic.twitter.com/YW4KJFVKYc

— Ali Khan Tareen (@aliktareen) March 8, 2020
There were some powerful performances by Women! You go, girl!
Powerful.#AuratAzadiMarch #AuratMarch2020 pic.twitter.com/qt18wHk16c

— M Hamza Irshad. (@muhammad_hamza9) March 8, 2020

Some of the best placards that we came across this year!
#AuratMarch2020 pic.twitter.com/F63xLwOlI9

— Nayab Gohar Jan (@NayabGJan) March 8, 2020
This made me teary-eyed #auratmarch2020 pic.twitter.com/F7daLiw5Ow

— Hira Azmat (@caustichazmat) March 8, 2020
These are the placards of Aurat March 2020 which misogynist will never show you.

The best slogan "The Man of Quality dont fear Equality"#againstPatriarchy #AuratAzadiMarch #IWD2020 pic.twitter.com/hq5tNghBc2

— Amina (@AminaBaha) March 9, 2020
So happy to see diversity in the demographic makeup and issues raised at Aurat March 2020 in Pakistan. It's safe, political, intersectional and includes #environmentaljustice issues in its agenda 😀 Happy international women's day! pic.twitter.com/lZWfqvYV8f

— Zoya Atiq (@AtiqZoya) March 8, 2020
congrats to all women and allies on a successful Aurat March 2020 This year once again, the structure of Patriarchy was shaken to the core as women marchers and their allies protested 4 their freedom and their rights all over the country #AuratAzadiMarch2020 pic.twitter.com/WVbcc9MwjD

— Shehnila Khan (@ShehnilaKhan6) March 8, 2020
Pakistani Women on #WomensDay#WomenDignityMarch#WomenDignityWalk#MeraJismMeriMarzi#MeraHijabMeriMarzi#equality
#AuratMarch #AuratMarch2020 #Islamabad #WomensDay #InternationalWomenDay2020 #IWD2020 #GenerationEquality pic.twitter.com/8UZGcQD1KG

— Ketulkumar Parmar💭 (@Ketulkumar2020) March 8, 2020
Aurat March placards that dont get coverage/attention: #AuratMarch2020 #AuratAzadiMarch2020 pic.twitter.com/IgaQiUAMJz

— aly (@shitpostmalone) March 5, 2020
We love this witty yet hilarious placard!  
Best!#AuratMarch2020 pic.twitter.com/LOoEp9Dug1

— Mehmal Sarfraz (@Mehmal) March 8, 2020
Pakistani stars came out in support of #AuratMarch2020
Un ka jism, un ki marzi. Aap ka jism, aap ki marzi. Mera jism, meri marzi. Live & let live. #AuratAzadiMarch #WomensDay2020 pic.twitter.com/acdeSJHKhe

— adnanmalik (@adnanmalik) March 8, 2020
Nasreen is the sole bread winner of her home and works at my place. Mubarak works for Mashion, supports a family who live in a village in Sindh. Both came along with me. All the posters we made were picked up from the #auratmarch manifesto. #HappyWomensDay ♥️ pic.twitter.com/yzm30V76uO

— Mahira Khan (@TheMahiraKhan) March 8, 2020
Excellent initiative by Osman Khalid Butt this Women's Day!
This International Women's Day, and the day of the nationwide Aurat March, I have contributed to support the education of ten underprivileged girls for a year. /1 pic.twitter.com/O3MYdyfhUV

— Osman Khalid Butt (@aClockworkObi) March 8, 2020

Even after a peaceful protest by the womens march attendees, they were attacked with rocks by other parties which lead to several injuries.
We got attacked by hardliners from JUI-F, Sunni Ittehad, and Jamia Hafsa. You can clearly see our organizers showing these agitators the peace sign in response to their 'laanat' and curses, before they attacked us with rocks, leading to several injuries. #AuratAzadiMarch2020 pic.twitter.com/bB9OkFiQqz

— Aurat Azadi March Islamabad (@AuratAzadiMarch) March 8, 2020
However, the Aurat March Islamabad continued even after the attacks. We love the enthusiasm and courage shown by the attendees. There is no power that would stop these brave women!
We will march! We will not be stopped!#AuratAzadiMarch

— Aurat Azadi March Islamabad (@AuratAzadiMarch) March 8, 2020
What do you think about this year's Aurat March? Let us know in the comments below.
For more news and updates, stay tuned to Brandsynario.