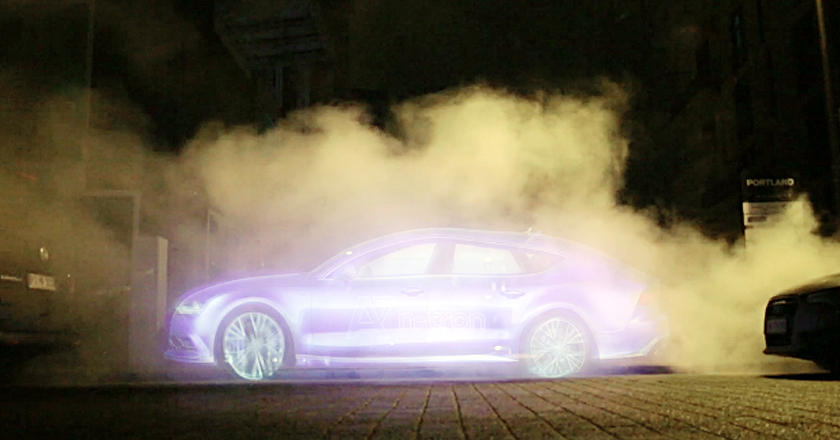 Being a marketing major student and as obsessed with cars as our politicians with the 'Kursi', watching the innovative ad for the new Audi made me euphoric.
Rather than the same old out of home displays that clutter the roads, Audi wanted a lasting impression for its newA7 H-tron Quattro.
The Audi A-7 Sportback H-tron Quattro was revealed in Los Angeles last November.
This car sports a fuel cell coupled with a hybrid battery and further stocks an electric motor to power up in the rear. This car is a plug-in Hybrid and has zero emissions and an estimated range of 310 miles.
Sadly, this beauty isn't currently being produced. The company is still observing the potential market and infrastructure for the new wonder.
The Big Catch: It leaves no emissions except water vapour!
Audi, in search of the same effect of leaving nothing behind worked with Thjnk to create the same effect out of its futuristic billboards. These ads utilized streams made from water vapors to act as the screens where the LED projectors were used to emit the image of the car along with words on top.
These holographic billboards were cleverly placed in different busy areas of big cities at night. These billboards vanished into thin air after flashing the image of the glowing H-tron with words on top. The billboard cars were parked beside other cars or on parking lots.
The billboard ran as the image of H-tron glowed in the mist and then the words "Leaves nothing but steam. And a lasting impression" followed before flashing the AUDI name.
Promising something stunning and powerful, Audi always takes greater interest in innovation than some of its counterparts. But to introduce that innovation, innovation itself is required in the presentation. The promotion of the innovation itself deserves something out of the box which promises to reflect what is being offered.
The German creative advertising firm 'thjnk' did just that when it was selected to promote the new Audi A-7 Sportback H-tron. Audi is notorious in the automobile industry to engage in niche advertising campaigns that leaves a mark on its audience.
The clever marketing stunt has another effect. This ad raises awareness about the emission pollution of cars and how we should move towards low emission technology.
And on top of that, this was quite a witty stunt as people started taking pictures and posting it on the social media platforms creating quite a buzz and a strong word of mouth.
Bravo Audi!! You did it again.