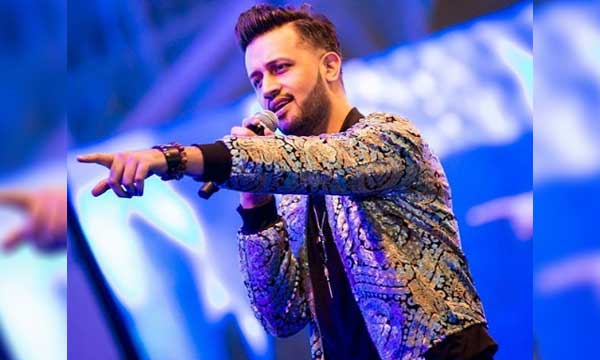 Social media has fallen in love with the ultimate singing sensation, Atif Aslam! His respectful gesture is all over the web that the crooner saved the girl being harassed at his Saturday concert in Karachi.
The crowd went ecstatic when Aslam took the stage at around 1:17 am!
But some rowdy men crossed all lines and started harassing the female audience enjoying the musical evening!
Made sure all the girls were safe before resuming the concert.Also pointing to a harasser he said,"Insaan ka bacha banja ya mai bana dunga"

— Osama. (@ashaqeens) January 15, 2017
Noticing the hullabaloo in the front-row, the singer paused his song mid-way and schooled the eve-teasers like a boss!
Mad respect for Atif Aslam last night, stopped in middle of a song & scolded guys who were harassing the girls in the front row.

— Osama. (@ashaqeens) January 15, 2017
What is more, the superstar made sure that all young girls were safe from the men misbehaving in the mob before resuming his concert!
Watch the whole episode for yourself here!
https://www.youtube.com/watch?v=EP4p3m3T4x8
 Then Atif Aslam turned the whole musical evening around with a heart-warming tribute to Junaid Jamshed!
Amidst all the mismanagement & chaos there was a moment of semblance last night when Atif paid his tribute to JJ. pic.twitter.com/BYf8X1rnRi

— Osama. (@ashaqeens) January 15, 2017
Aslam proved to the whole world what a gentleman he was!
@itsaadee #AtifAslam
Thank you for showing the class real men are born with.#respectWomen#respect

— Broken Symmetry (@PrtclePhysicist) January 16, 2017
Atif Aslam did what every Pakistani must do. #karachi #atifaslam

— AbEeha PakIsTani (@abeeha155) January 15, 2017
Twitter can not stop raving about our singer- turned-superhero!
massive respect for @itsaadee #atifaslam

— Ousama Khurshid Khan (@sam1992sam) January 16, 2017
Even though im not a fan of #atifaslam as a singer but I #respect what you did in last night concept.. good job!

— Hajrah Siddiqui (@HJRHSDDQ) January 16, 2017
Mad respect for #AtifAslam to speak up for women in a society where all the "ghairatmand" just stand and stare. This should become a norm.

— aeman. 🇵🇰🏆 (@_aeman_) January 16, 2017
"She shouldn't have dressed like that"
People so easily blame a woman for the disgusting acts of a man.
Respect to #AtifAslam ❤ https://t.co/rVRWVpDL8X

— Rowhi (@Rowhii) January 15, 2017
Kudos to Atif Aslam for scolding the guys and stopping the nonsense on the spot! He, surely, has set an example for all Pakistani men!
Atif Aslam's "Pehli Dafa" Song Under Attack by Indian Political Party!
Stay tuned to Brandsynario for more updates!