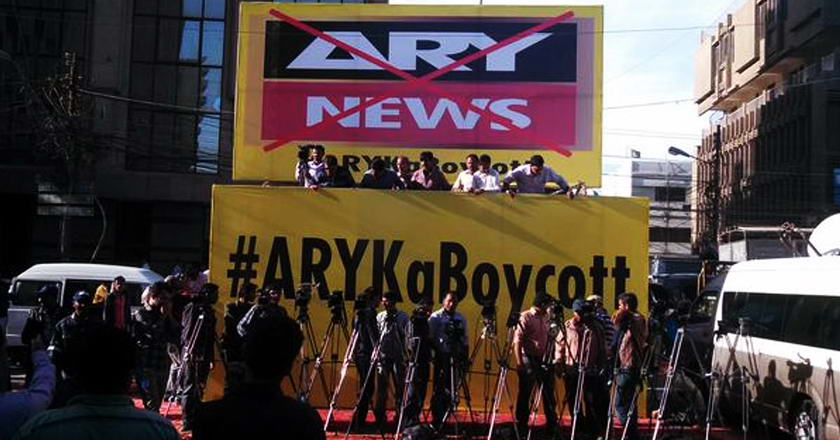 Pakistan Electronic Media Regulatory Authority (PEMRA) banned ARY News anchorperson Mubasher Lucman's programme 'Khara Such'. Previously, Lucman bashed PEMRA and other TV channels as well.
Lucman and his show 'Khara Sach' has been getting banned on and off all of last year. But this time, he has been banned for lifetime.
What with making Lucman and his show outlaws, insinuating the ban on ARY News, PEMRA has had a busy week indeed.
The latest on Twitter is the protest against ARY News.
The result: #ARYKaBoycott and #JawabDoPEMRA is trending on Twitter.
Twitter users have mixed responses to the situation.
Some are completely in favor for the protest and the ban on ARY News.
"@lasharis21: I was not that big fan of @mubasherlucman but now i am & will support him fully. #JawabDoPEMRA pic.twitter.com/9HWcAeR3jq"
— Faisal Yaseen Raja (@FaisalYaseenPTI) February 25, 2015
T.v Channel owners making billions everyday & we are losing our all values day by day !!! #JawabDoPEMRA
— Jawad Liaqat (@jawadali_90) February 25, 2015
Karachi Gathered For #ARYKaBoycott pic.twitter.com/oIqRTs6zva
— Syed Ameer Abbas (@SyedAmeerabbaas) February 25, 2015
Some support the outspoken TV host and ARY. 
You have enemies? Good. That means you've stood up for something, sometime in your life – Churchill @mubasherlucman
— Waqar M (Official) (@WaqarM_Official) February 25, 2015
@mubasherlucman wow means they give you this much importance. This is a proof of your popularity…

— Muhammad Ejaz (@Ejazlondon) February 25, 2015
Stay tuned to BrandSynario for more.