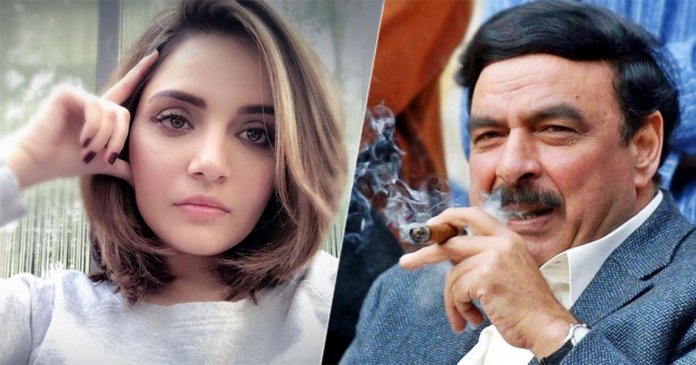 Armeena Rana Khan is known for being a vocal Pakistani celebrity on social media.
The Janaan starlet has raised many concerns in the past addressing many different issues including Syrian refugees, cyberbullying, racial discrimination and terrorist attacks all over the world.
Sadaf Kanwal & Sonya Hussyn Had a Fierce Clash Over Pakistani Movies!
Just recently, Armeena called out one of the popular political leaders in Pakistan, Sheikh Rasheed, who is known for his savage 'thug life' comebacks.
While giving an interview to a news channel, Rasheed expressed his views about the entertainment industry and abused them by using vulgar language.
The starlet called him out on Twitter while sharing a clip of his statement in which can be heard saying the word out loud on national television.
In her tweet, Armeena asked her followers:
Who is this man? Why is he using such abuisve language against the #filmindustry? and more important why is such obscene language allowed on mainstream television? 🙈🙈 pic.twitter.com/87mtZmO0vB

— Armeena Khan (@ArmeenaRK) June 19, 2018
She continued to roast him by pointing out that people like Rasheed, who are actively involved in politics are the 'leaders' in our country.
Imagine, people like him are "leaders" 😱🙈 https://t.co/OoSZcZX5Gz

— Armeena Khan (@ArmeenaRK) June 19, 2018
When one individual defended Rasheed, she came back with an even savage reply!
So do shaadis don't have naach gaanay? Does that mean that everyone partaking in wedding songs and dances are K*****? 🧐 🤦🏻‍♀️ https://t.co/Yxi0l8A09O

— Armeena Khan (@ArmeenaRK) June 19, 2018
She continued by further tweeting: 
I am embarrassed FOR this man. I mean, how do you just sit there and make such statements without realising the wider ramifications. It chills me to the bone. I mean is he educated? What background does he come from? In the UK, he wouldn't be allowed anywhere near public office. https://t.co/mXN3RUxhOy

— Armeena Khan (@ArmeenaRK) June 19, 2018
Last but not the least, Armeena left everyone with one last tweet before calling it a day.
In a powerful note, she asked the individuals supporting Rasheed that if those who belong to the entertainment world are called that term, what would people who sell their homeland to corrupt politicians be called?
What do you call selling the soil of your motherland to corrupt politicians? In the wider world, only the BEST, the most educated, the most talented can dream of doing what WE do I.e being artists. Real K's can only dream of this so what do you do? Dream or sell? https://t.co/WUBDvdc6TJ

— Armeena Khan (@ArmeenaRK) June 19, 2018
Are Sheikh Rasheed's actions and statement justified? Or did Armeena did the right thing by calling him out? What do you think?
Teefa in Trouble: Maya Ali & Ali Zafar's Dance Number Has Us All Excited!
Stay tuned to Brandsynario for more news and updates.