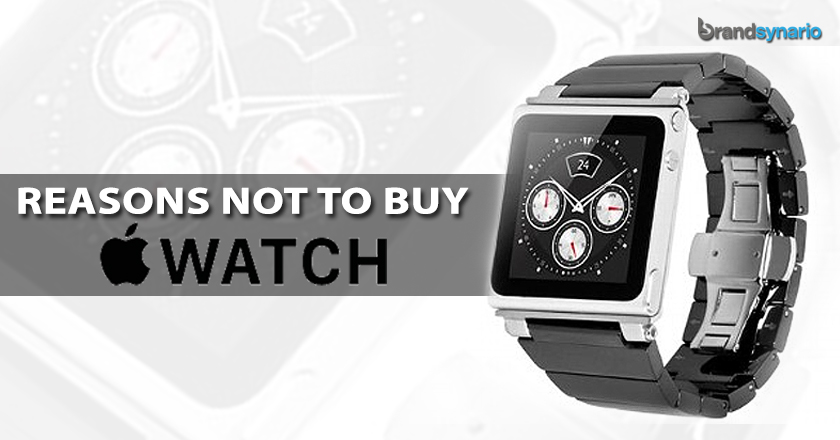 By Zenub Ayaz
Apple has finally revealed their much awaited creation, Apple Watch. The device is scheduled to hit the market in early 2015. Many adjectives have been used to define the gadget, but on the whole – it would be safe to say that Apple Watch is definitely an elegant, valuable, useful and stylish device.
As for its price, the rumors suggest that the watch would range somewhere between $250 to $350.
While everyone else is talking about how Apple Watch is destined to be a big hit, here are the top reasons why one rather shouldn't buy the gadget. 
For starters, lets discuss why spending hundreds of dollars over a smartwatch just doesn't make much sense.
When compared to a smartwatch, smartphones have the same functionality and are of much convenient size; plus a fancy Apple smartwatch which is super expensive can never beat the style and class of a fancy branded watch.
Talking about the need of an Apple watch, the watch definitely has certain features which would be beneficial but at the same time it would be like having a smartphone stripped-down on ones wrist.
Also when a person, on average spends around eight hours in front of a computer, with a smartphone in pocket, it makes no sense to have a constant beeper to keep one informed of his circumstances.
Whereas most of the features CAN help one to keep up with a hard schedule yet there are certain features that could increase one's stress levels immensely. Being able to keep a count of calorie intake, heart rate, blood pressure along with monitoring ones movements and always being updated with the ongoing happening might sound amazing, yet in reality they are a perfect combination for driving one crazy. 
Also, having a figurative time bomb on one's hand could result in reducing one's attention span to that of a Gold fish!
On a practical level, keeping the delicacy of Apple's product in mind, one would probably end up breaking the costly gadget. As the Apple Watch isn't out yet so the absolute comments about the sturdiness of the product could not be given definitively.
It is obvious that a company like Apple doesn't essentially need huge market share to bring in massive revenues. Let's see whether Apple would be able to keep up with its excelling performance and façade with Apple Watch in the market.
Do you think  Apple Watch would strengthen Apple's market presence or not? Or would you prefer buying it or not?
 Tell us in the comment section below!