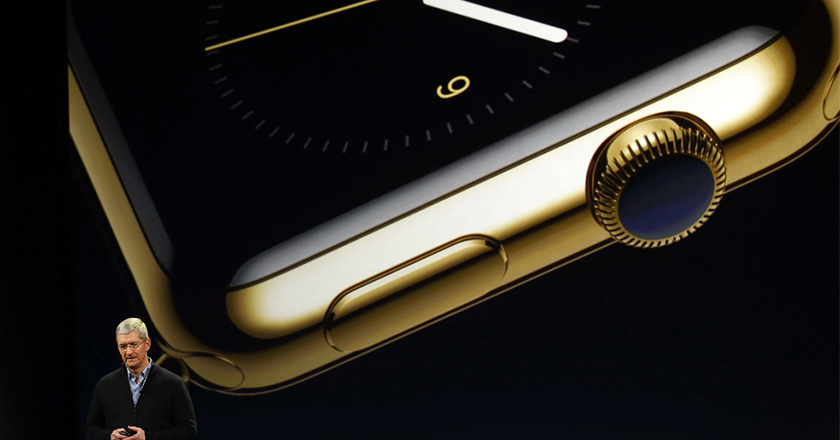 Apple made news for the wearable smart-watch market with the unveiling of its much anticipated 'Apple Watch' on Monday. This is the first major step toward the future by the tech giant since the death of Steve Jobs.
The Apple Watch is "the most personal device we have ever created," Apple CEO Tim Cook said Monday at a showy press event in San Francisco. "It's not just with you, it's on you."
The Apple Watch is a miniature computer with a touch-screen that is worn around the wrist. Albeit, it requires a connection to an iPhone to be fully operational.
You can receive phone calls and notifications, check social media, the weather or your heart rate, control your music, track daily news, talk to personal assistant Siri, scroll through Instagram photos, summon an Uber rideand read emails on the watch.
Read More: Apple Watch Featured In Vogue 12 Page Ad
Apple is looking to stamp its mark on mobile devices with the new gadget, which Cook called "the most advanced timepiece ever created."
Apple Watch goes on sale in stores on April 24 but pre-orders start on April 10. Consumers can also try on the watch starting April 10.
Here's What to Know:
The 'Apple Watch' is made of stainless steel and the price ranges from $599 to $1,099.
The 'Apple Watch Sport' is made of aluminum and price ranges from $349 to $399.
The 'Apple Watch Edition' is made of 18K solid gold (cases, bands and buckles. Its  priced from $10,000 and available in only some stores.
Interesting Tidbits:
• Users can add the details they like to the watch face — like universal time, appointments and the style of clock.
• Swiping up from the bottom lets you do things like control music, see the weather, and check your heart rate.
• An engine alerts you by tapping your wrist when you get a message.
• There's a built-in microphone that lets users receive calls on your watch.
• There's full email capability.
• There's user-to-user sharing. If you tap your watch — a friend will feel the tap. Or users can draw images and friends will see them in real time.
• The watch will tell users if they've been sitting too long and suggest activity.
Apple's Challenge:
The biggest challenge for Apple – the tech firm is launching its newest product line in a small market saturated by smartwatches running Android wear, Google's software for wearable computers.
But Apple and market analysts are optimistic of the future.
"We believe today's event could be a major door opener for wearable technology," FBR Capital Markets analyst Daniel Ives wrote in a research note. "With the Apple brand/unmatched consumer base now behind it, we think the wearables category now potentially has a 'silver bullet' product which can start to move consumers toward this new avenue of technology growth."
Apple is pitching the watch as an essential way to have brief, unobtrusive interactions with a quick glance.
The device will become "integral to your day," Cook said.
"The flexibility of glanceable information is more valuable than people realize today," said Creative Strategies analyst Tim Bajarin.