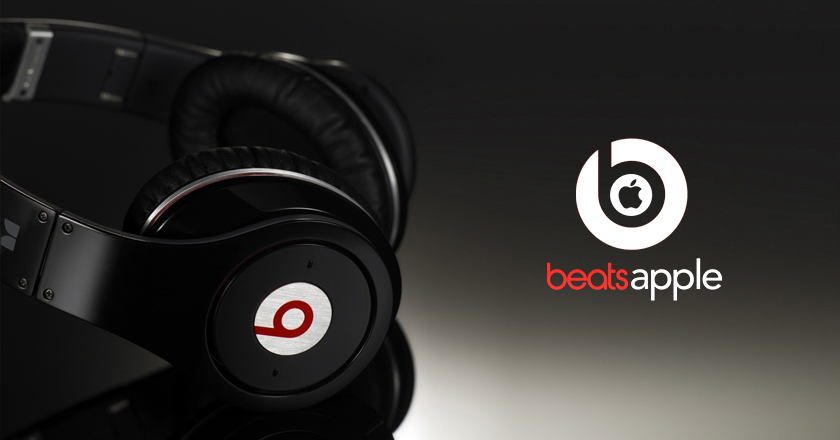 Apple confirms its intentions to purchase Beats Music and Beats Electronics, thus confirming the long lingering rumor. 'Beats' Music & Electronics is the premium headphone manufacturers whose expertise encompass making earphones, audio softwares and others.Apples' acquisition of Beats,is going to be the largest deal ever for the company so far, since Apple is not known big corporate acquisitions.
Earlier this month, the deal was reported to be of $3.2 billion, but recently according to New York Post the report said that Apple is acquiring the companies for $3 billion. The deal consists of $2.6 billion in cash and $400 million in Apple stock. According to the deal, Beats co-foundersDr.Dre (the rapper) and Jimmy Lovine(long time music executive) will join Apple. 
(From left to right:Beats co-founder Jimmy Iovine, Apple CEO Timothy.D.Cook, Beats co-founder Dr. Dre, and iTunes boss, Apple's executive in charge of Internet services Eddy Cue)
According to the sources Timothy D. Cook, Apple's chief executive, repeatedly highlighted the talent that Dr. Dre and Mr. Iovine would bring to Apple. He also appreciated the Beats music service, which creates playlists for subscribers.
Apple likes the business Beats has put together and wants to make new products using the company's talent. Apple and Beats executives said the companies would work together to give consumers around the world more options to listen to music, but they declined to disclose plans for products it will make with Beats, so it will take time t see that to what extent the deal is going to be beneficial for both the companies.
However, Apple said iTunes, which sells individual songs and albums and offer a streaming radio service, would be offered along with the Beats music service.