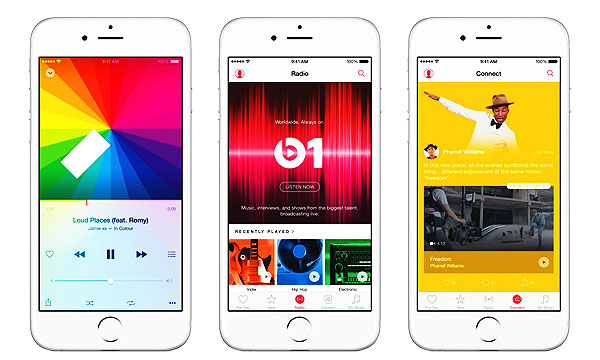 Apple Music – Apple's new music streaming service – went live on 1st July, complete with artist exclusives and a radio station.
Apple Music is currently available on Apple devices in 100 countries and will be accessible on Windows and Android in the fall. iPhone and iPad users can download Apple Music via the iOS 8.4 Software Update. MacBook users need to download the iTunes 12.1.2 update.
The platform offers 3 services which include a curated music playlist, a global radio station called Beats 1 and an artist's collaborative feature called Connect.
Apple has been lagging behind on the music streaming front, with Spotify having reaped the benefits for years, but now they are looking to extend beyond iTunes and dominate the market for on-demand, unlimited music.
The radio station, Beats 1, will remain free, even for those who do not pay the required $9.99 per month to stream music.
Beats 1 will be established as the center-piece of Apple Music, and will feature guests such as Dr. Dre and Elton John. It is billing itself to be the first global radio station and being made an integral part of the latest operating system on iPhones.
Additionally, a feature called Connect will also allow artists to post messages, as a way to keep users engaged in Apple Music and not inclined to switch to other social media.
Read More: The Pros and Cons of Apple Music
The service went live at 1500 GMT on 1st July, with Beats 1 hitting the airwaves an hour later with a New Zealand born DJ – Zane Lowe – as the host.
The broadcast kicked off with the song "City" by Spring King, a Manchester-based indie band, as the first song. This was followed by Beck's "Dreams", who recently won an Album of the Year Grammy in February.
Lowe revealed that on the decision of which song to play first, Apple Music had debated for months, and in the end settled for Spring King's "City".
"It's not about fanfare. It's about quality and consistency. We're Beats 1, we're worldwide, and from now on, we're always on," Lowe said.
Naturally, Apple is counting on the big names to attract audiences, so hits from the likes of Pharell Williams were also aired.
A lot of big celebrity names have been brought into the picture as an effort to draw attention to their streaming service, and for the most part this tactic is definitely working. After a disagreement over Apple Music's old policy of non-payment of artists for the 3 month free listening trial period, superstar Taylor Swift has agreed to allow her hit album "1989" to be streamed exclusively on Apple Music.
Read More: Taylor Swift Takes a Bite at Apple Music's Streaming Services
In addition to Swift's album – one of the best-selling US albums in recent times – works from artists like AC/DC and Bjork is also up on the streaming service.
Apple Music is entering a field full of some real tough competition, going up against the likes of Spotify, Deezer, Rhapsody, Tidal and Google Play.
Spotify is by far the giant in music streaming, with a total of 20 million paying users as part of a total of 75 million active users.
However, Apple Music is not Apple's core business, but rather a way to boost iPhone sales and expand and preserve its image as a cultural spearhead.