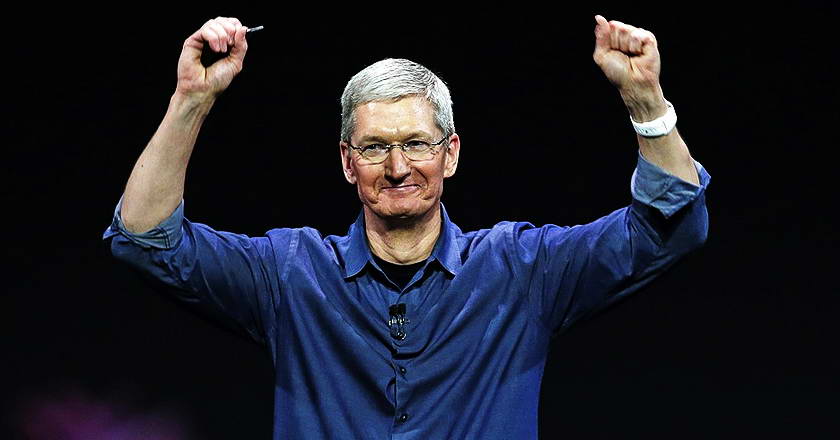 Apple, the biggest name in technology has become the first company in the world to hit a market value of $700 billion. On Tuesday, 10th Feb 2015, Apple's shares rocketed due to recent gains in the smart-phone and smart-watch (coming soon) market.
A whopping 1.9% increase caused share prices to rise to $122.02 and resulting in an overall market value of $710 billion, becoming the first company to reach the $700 billion high-point.
Tim Cook, Apple's CE, commented that Apple is "hitting its stride" at the Goldman Sachs Technology & Internet Conference being held in San Francisco.
"We've taken (the mobile operating system) iOS and extended it into your car, into your home, into your health. All of these are really critical parts of your life," Cook said.
"We want one seamless kind of life. And so, I think that is huge for our future…We also did a lot of things to further our global footprint. Through the world, we've opened almost 20,000 new points of sale. We've opened 27 new Apple Stores, lot of flagship stores."
According to Cook, Apple received about $50 billion in revenues from emerging markets over this past year.
Brian White – an analyst at Cantor Fitzgerald, said that this topmost tech company has even more room to grow.
"Given Apple's powerful iPhone cycle, a big 4G ramp in China and the upcoming launch of Apple Watch in April, we believe there is still plenty to look forward to at Apple during this transformational cycle," he said. "At the same time, we believe Apple's valuation has room to expand from depressed levels."
Fitzgerald also states the Apple's value was only around 10 times the estimated earnings for the coming fiscal year, even though Wall Street, as per its price-earnings ratio, says that the tech giant is valued around 16 times its annual earnings.
An enormous gap exists between the market values of Apple and Exxon Mobil, oil giant, the number 2 company, with Exxon Mobil worth around $382 billion.
An astonishing 74.5 million iPhone sales contributed earnings of $74.6 billion and resulted in an unmatched $18 billion quarterly profit. This ensures that the Apple's share prices remain at moderation.
Strong demands are predicted for the release of the Apple Watch in April, as well as the acceptance of the Apple Pay system, which allows customers to buy items with a tap of their iPhones.
In an agreement with First Solar Inc., Apple will commit $848 million for solar energy to power its data centers.
Cook called the effort "our biggest, boldest, and most ambitious project ever" and said it was part of Apple's commitment on clean energy and corporate responsibility.
Apple will receive electricity from 130 megawatts under a 25-year power purchase agreement, "the largest agreement in the industry to provide clean energy to a commercial end user," the solar firm said.
Earlier this month, Apple revealed plans to pump $2 billion over the coming decade into a solar-powered data center "global command" facility in the southwest state of Arizona.