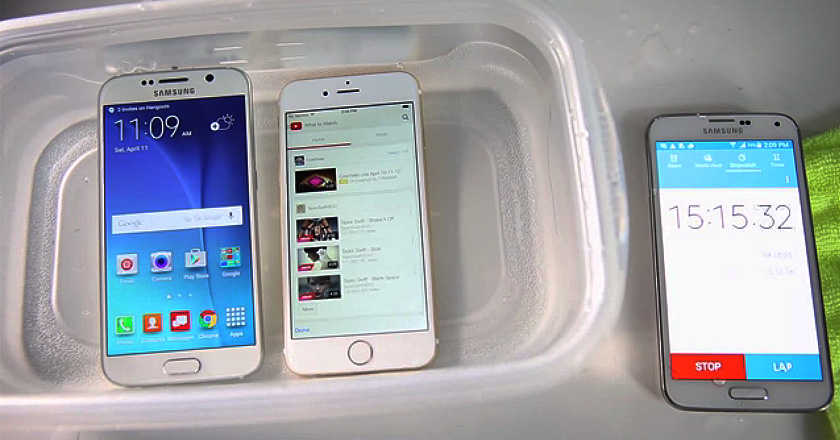 Pitting tech giants, Apple & Samsung, and their flagships; the Apple iPhone 6 & the Samsung Galaxy S6, against each other, this review video is the ultimate test for smartphones claiming to be waterproof!
Yes, the video is real and the review is on point but we still recommend thinking at least twice before submerging your monthly salary worth of phones into inches deep water.
While Samsung Galaxy S5 had the waterproofing superpower and people loved it, Samsung has decided to not include this feature for their newest smartphone.
On the other hand, while Apple does not claim iPhone 6 to be waterproof, a number of people have claimed that it can survive a dunk or two in the water, without causing irreparable damage.
While most of the people have tested their beloved smartphones unintentionally, by jumping into the pool forgetting to take out the phones from the pocket or by accidently dropping them into toilet or even by putting it in the laundry by mistake, this guy has gone all out to actually test these phones for their waterproof capabilities with a proper experiment.
With a stopwatch on the go, both phones were submerged at the same time in a couple of inches of water.
After 10 minutes of being thoroughly submerged, Samsung Galaxy S6 worked perfectly well; the display was good, the touch screen worked, the cameras had good results and the sound was perfect too. However, it did keep rebooting itself again and again randomly.
On the other hand, iPhone 6's speakers failed on taking it out at 10 minutes while other features worked perfectly okay.
The smartphones were once again dunked in the water to see, at what point the devices would die eventually and it turned out that Samsung S6 restarted itself at 14 minutes 25 seconds mark and dying altogether at 17 minutes, while iPhone 6 continued to go strong for 30 minutes!
Samsung S6 did start working again after drying it out and shaking most of the water out but it failed to start up a couple of times and it continued to reboot randomly.
The experiment failed to test for how long iPhone 6 would actually continue to work underwater; however, it was enough to illustrate that waterproof capabilities are one of the unsung features of the already popular phone.
Watch the video below and again, do not try this at home: