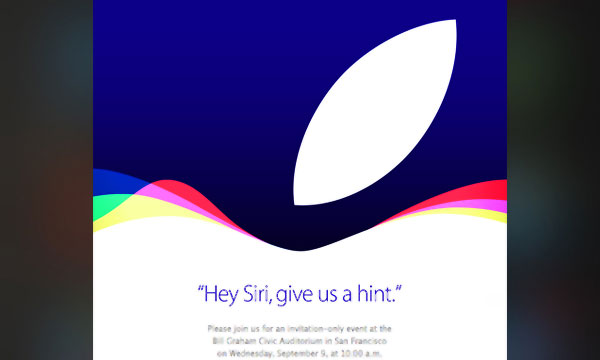 The Apple Event due this September 9th has avid Apple fans waiting with bated breaths. Not just that Siri has been coming up with hilarious replies every time you ask her for a hint.
The products to be unveiled during the event include a pair of new iPhones, an updated Apple TV, iPad Mini, iPad Air and new Apple Watch accessories.
Read More: Apple's iPhone 6s, iPhone 6s Plus Event Announced for September 9th
These are the predictions by famed blogger who gave a roundup of rumors regarding the firm's most awaited event, Mark Gurman.
 iPhone 6S and iPhone 6S Plus
The general expectations from Apple include a reduction in price by $100 as well as new features which will include a Force Touch screen, revamped design and shape, a 12 Megapixel camera capable of shooting 4K videos, an updated speedy processor and new color option of rose gold.
Read More: iPhone 6S & iPhone 6S Plus Leaked Photos Show Larger Design
Apple TV
The Apple TV is the average tech-nerds fantasy television replete with a Wii-like motion sensitive controller, voice-controlled universal search and a software developer kit which will be accompanied by unlimited apps which will be switched. These Apps will be transferrable from the small screen to the big one.
Read More: Apple to Unveil New iPhones, iPad and Apple TV on 9th September
iPad Pro
This anticipated version of the iPad is rumoured to be 12.9 inches and accompanied with Force Touch and Stylus, Cases and Keyboard Accessories, Speakers and Ports. Its software update will include a major upgrade from iOs 9 to iOs 9.1. This particular version of the iPad is expected to be launched in November.
iPad Mini 4
This year the iPad mini is expected to be launched with a thinner overall design. It will also include split-screen apps, new camera and chips. It will also be boasting an A8 chip or A9 chip processor.
Apple Watch
According to Mark, it is unlikely that the Apple Watch will get any stage time this year however he is predicting a new series of Apple Watch bands which will feature new color options for the Sports Band Line. Except for the new color range, there are no other significant changes. But the software for Applie's iWatch which is watchOS may be upgraded to watchOS 2.0.
For the latest happenings and coverage of the Apple Event. Stay tuned to Brandsynario.