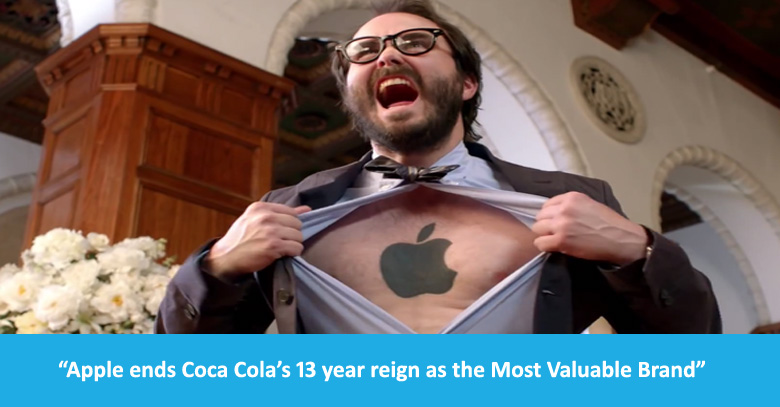 Interbrand has released its annual listing of Best Global brands, one of the most prestigious ranking of the worldwide brands. Interestingly however, the latest edition concludes the reign of Coca Cola for the number one position that lasted for 13 years. 
Coca Cola falls down to third place in World's most Valuable brands for 2013, after Apple and Google took the first and second position respectively.
Apple jumped to the lead with a 28% growth from last year to gain a total brand value of USD 98.3 billion. Google followed with a whopping USD 93.3 billion, while Coke stood at third rank USD 79.2 billion.
Both Apple and Google saw massive growth in contrast with last year, as Google increased its brand value approximately by 34%. Four out of the five top companies in the list belong to the technological industry.
Jez Frampton, Interbrand's global CEO said, "Every so often a company changes our lives — not just with its products, but with its ethos."
"This is why, following Coca-Cola's 13-year-run at the top of Best Global Brands, Apple now ranks No. 1. Tim Cook has assembled a solid leadership team and has kept Steve Jobs' vision intact – a vision that has allowed Apple to deliver on its promise of innovation time and time again," he further clarified.
The other brands that made to the list are IBM at number four with a total brand value of USD 78.8 billion, followed by Microsoft with USD 59.5 billion.
Interbrand has placed General motors on the sixth position with McDonalds, Samsung, Intel and Toyota at seventh, eighth, nineth and tenth spot repectively.
However critics claim that getting on top is only job half done for Apple as the more important job is to counter Samsung's rising demand in China and other huge Smartphone markets. Apple may be the most valuable brand for now, in the longer run however the company will face a serious challenge from Samsung and Google is inevitable.
Other than most valuable brands, Interbrand's fastest rising brands include Facebook, Google, Prada, Apple and Amazon.