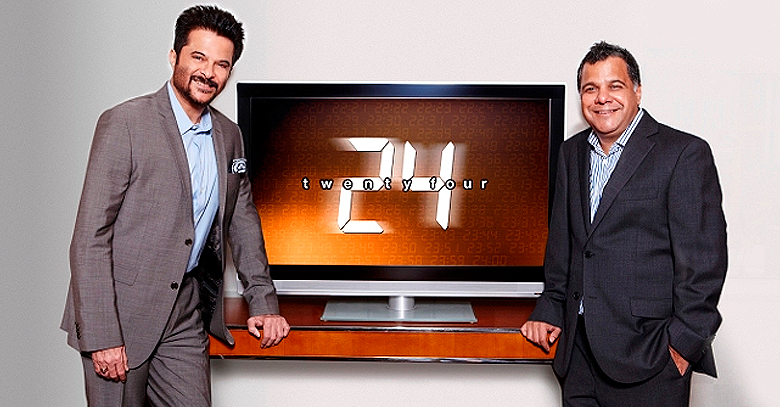 Can Anil Kapoor do justice to the character of Jai Singh Rathod as Kiefer Sutherland did to 'Jack Bauer' in the famous American TV Series 24? Yes, Anil Kapoor has taken his greatest challenge ever to bring the thriller series to Indian Television.
The Twenty Four Series, as the name suggests is about the twenty four hours from the life of Jai Singh Rathod, played by Anil Kapoor, the head of the anti-terrorist unit. Each episode from the series narrates an hour of the protagonist's longest day in real time. Thus it consists of 24 episodes in all.
Moreover, the official trailer of the much awaited series has been released. The cast consists of famous celebrities such as Mandira Bedi and Tisca Chopra, whereas cameo appearances by Bauman Irani, Anupam Kher, and Rishi Kapoor are expected.
The show will go on-air this October on Colours Television.
Furthermore, it is for the first time in the history of Indian Television that a TV show has been promoted through posters and a theatrical launch. According to Kapoor's daughter, Sonam Kapoor, the show is rather a 'film made on television'. She further added that the show challenges to change the future of the Indian television.
In one of his interviews with the Times of India, Kapoor explained that it was the format of the show that influenced him to bring it to India. He further described his experience in the original 24 Series, playing the character of Omar Hasan, the fictional president of the Islamic Republic. It was on that shoot, Kapoor revealed, that he decided to bring the iconic show to India.
However, the ultimate challenge that the production team has been facing since then, is to have similar aesthetics and performance, as the original American series, in a lower budget and lesser amount of time. Nonetheless, Kapoor is in full spirits and maintains that he will be able to'hook the Indian audience with slow poison'.
Besides, once India is successful with its endeavour of producing a hit adaptation of the American thriller, we can surely predict something about the Pakistani television industry.
Now hasn't this been a trend since forever? Hollywood inspires Bollywood which in turn highly influences Lollywood. Though there is no news so far in the Pakistani media, all of us have witnessed the sporadic decisions taken by our media owners.