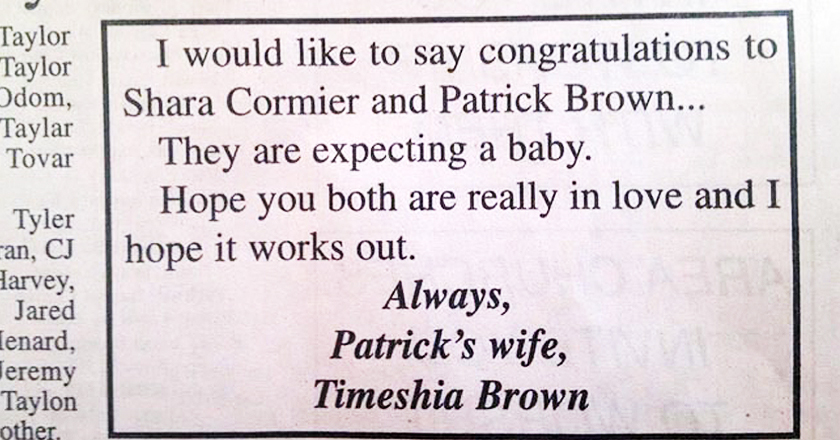 Is your husband cheating on you? No problem, just print out a nice Newspaper Ad, confronting the two-timing scoundrel in the national Newspaper. At least that is how an angry wife reacted when she found out about her husbands, extramarital affair. 
When Timeshia Patrick from Texas found out about her husband's affair and that he is expecting a child from his secret lover Shara Cormier, she reacted in a rather uncanny fashion. She gave an ad in the newspaper, congratulating the two since they're expecting a child together; of course she mentioned her full married name at the bottom and the fact that Shara is actually her husband's mistress.
The innate public humiliation that follows for Mr. Patrick and Shara Cormier can only be imagined. Their public and social images are destroyed by Timeshia who, by doing so, has avenged her destroyed trust and heart.
The ad reads,  'I would like to say congratulations to Shara Cormier and Patrick Brown. They are expecting a baby. Hope you both are really in love and I hope it works out. Always, Patrick's wife, Timeshia Brown.'
The Newspaper print Ad has been circulating on the internet since Monday, making abuzz. However this is not the first event of its kind, as one such incident also occurred last year, but with the image of a billboard.