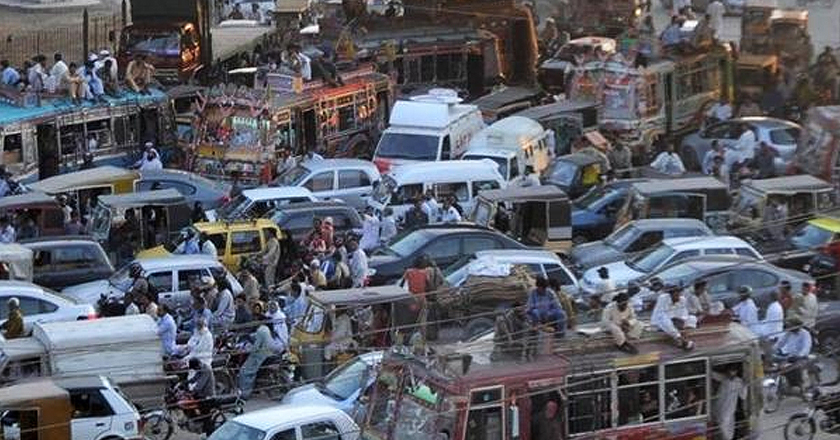 The city of lights is currently a mayhem of crisscrossed vehicles on the second day of the 8th International Defence Exhibition and Seminar (IDEAS). 
Karachiites continue suffering in frustrations as major parts of the city have been blocked due to security issues.  The daily commuters are facing hours of delays as severe traffic jam continues.
The direct route to Expo Centre, Hasan Sqaure Bridge has been blocked creating a chaos on University Road, Rashid Minhas Road, and Dalmia Road which are used as alternate routes to Hasan Square route by many.
Some Frustrated Karachiites took to micro-blogging site Twitter to express their anger while others decide to help by offering alternate route suggestions:
Only for Karachiites. #NaMumkinHaiBaji #IDEAS2014 pic.twitter.com/MEu2dw0Ws7

— Ahsan | ???? (@aey) December 2, 2014
"@KhiTraffic: RT @kashaziz: Kid stuck in school, driver stuck in trafficjam #Karachi suffering thanks to #IDEAS2014." Need better management

— Ali Hafeez Azmat (@alihafeez) December 1, 2014
Stuck in traffic since more than hour. Pls kill me now. Thank you #Ideas2014, all hail to you. -_- — feeling annoyed

— Maimoona Abdullah (@Maimoona_A) December 1, 2014
Traffic jam at Rashid Minhas Road, Gulistan-e-Jauhar, NIPA, Civic Center, citizens advised to take diversion #Karachi

— Karachi Traffic Upd (@KhiTraffic) December 2, 2014
Numaish chowrangi still closed for traffic. Diversion: Nawa-e-waqt, Capri, Society office, P.P Chorngi and S/ bazar 3. #Karachi

— Karachi Traffic Upd (@KhiTraffic) December 2, 2014
In #Karachi, you don't decide when you will reach a place. The traffic will decide that for you! #Trafficwoes

— Tanvir Hussain (@TanvirH) December 1, 2014
The four day defence exhibition that kicked off yesterday was inaugurated by PM Nawa Saharif. The exhibition is showcasing defence ammunitions, aircrafts, tanks and communications-related equipment of 232 companies of the world, including 77 Pakistani firms.