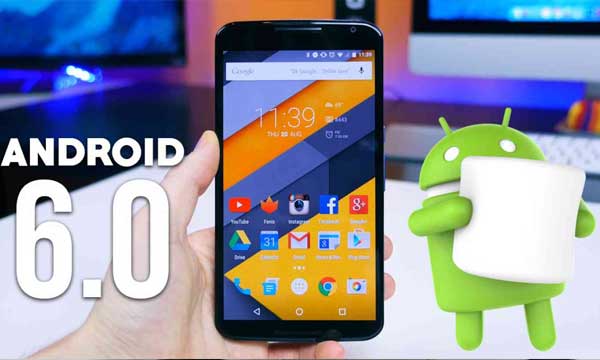 As the first models pre-loaded with Android 6.0 Marshmallow hit the shelves, manufacturers are preparing to update their high-end phones with this new version of Google's mobile operating system.
As for each version of Android that has been released, it will be installed in priority in the Nexus range — the new handsets (the Nexus 5X and 6P) and older devices (the Nexus 5 and 6 smartphones and Nexus 7 and 9 tablets). The rest will continue to run Android Lollipop.
Aside from the Nexus range, the HTC One A9 is the first smartphone with a built-in version of the latest version of Android, with the HTC Sense skin on top. The HTC One M8, M9 and E9 plus the Desire Eye, 816, 820 and 826 models are also expected to upgrade to Android 6.0 soon.
Motorola is expected to offer an upgrade from Lollipop to Marshmallow soon. The latest generation of the Moto G and the Moto X Style and X Play could be the first to get the new operating system, followed by the older Moto G and X and the Moto E models, although no precise details have been given about when it will happen.
See More: Android Marshmallow: 5 New Features
In early 2016, Samsung is likely to be next to offer an Android 6.0 update for its more recent phones, namely the Galaxy Note 4 and 5, the Galaxy S6 range (the classic, Edge and Edge+) and the Galaxy Alpha. As Samsung has not said anything as yet, it is difficult to know if the older phones, such as the Galaxy S5, will also get the upgrade of the latest version of Android at a later date.
Samsung's big rival LG has already said that its various G4 models will be getting an Android 6.0 upgrade. The G3 is likely to follow soon, and perhaps the G2 a little later in 2016.
After that, Sony will probably be the next to roll out Android Marshmallow for most of its handsets, ranging from the Z2 to the more recent Z5 models. Here too, it is difficult for the moment to know if the older models will also upgrade to Android 6.0.
At Huawei, the Mate 8, which is set to launch at the end of November, is expected to be pre-loaded with Android Marshmallow. It is thought that the Ascend Mate 7 and the Mate S will be updated soon. Huawei's subsidiary Honor will also offer Android Marshmallow updates, but most likely not before February 2016.
All these dates may be subject to change as manufacturers reserve the right to change their Android 6.0 updates policy at the last minute.