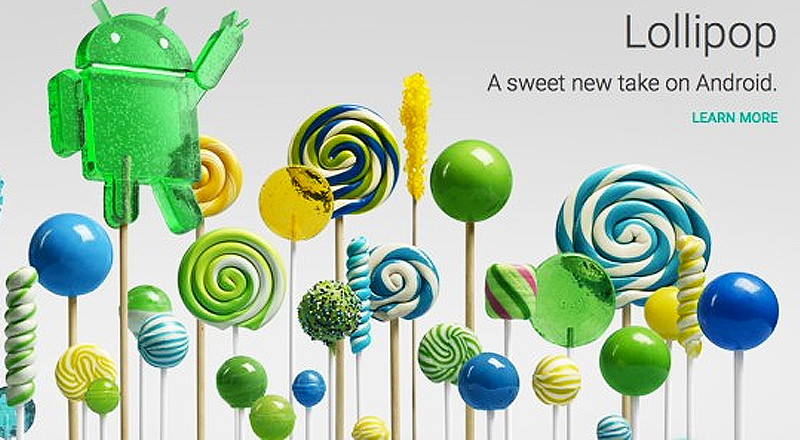 Tech-giants Google officially announced the launch of its latest operating system (OS), Android 5.0 or Android Lollipop, on October 15, 2014, with the OS making its debut on the Nexus 6 smartphone and Nexus 9 tablet, devices that will make their entry in the markets in early November.
Head of Android, Sundar Pichai, proclaimed that this would be one of the biggest updates to the Android OS since the release of Android Ice Cream Sandwich in late 2011.
So what exactly are the expected changes and features in the latest Android OS?
• The most noticeable new feature of the Android Lollipop is the new visual language from Google known as 'Material Design'. It makes use of bold graphics, blocks of color, and focuses on paper metaphors, which makes for the same visual experience for users of all its devices – smartphones, tablets, and even TVs.
• The interface of the notifications, more popularly known as the 'heads-up notifications', and quick settings has been changed, a change that extends to the lock-screen as well.
• The new Priority settings, accessible from the Volume buttons, let the user temporarily block out certain notifications from certain people during certain times, enabling them to use their very own 'Do-Not-Disturb' mode.
• Android Lollipop has added in a built-in Android TV support, which ties in with the launch of the Nexus Player next week. It also takes advantage of 64-bit CPUs, which will be exemplified by the Nexus 6 and its 64-bit Tegra K1 Denver.
• Google has finally brought device-sharing features, enabling users to share their Android 5.0 device with family members without worrying about access to sensitive/private content. The guest user mode allows a guest user to connect to a device, with access allowed to only a fixed screen on the device.
• Android Lollipop has introduced a new feature that allows users to log in to their Android phone to access synced content from a different device, in case they forget their phone elsewhere.
• The new OS allows for the use of less battery, saving battery life by up to 90 minutes.
Other new features included in the Android 5.0 Lollipop include:
• Improved hardware keyboard accessory support – support for multilingual, emoji input, search key, and improved app and system key chords.
• Improved accessibility features – text contrast boost, color inversion, and enhanced color differentiation.
• Support for 15 new languages.
• Improved audio, video, and camera capabilities, and improved Internet connectivity everywhere, with more powerful Bluetooth low energy capabilities.
The launch of the new OS will help usher a new era for Google and its mobile OS, Android. However, Google still has to specify a date for the release of its latest masterpiece, because unlike its tech-rivals Apple, Google vaguely sets deadlines for its update releases, stating that the updates to some devices, including HTC, LG, Motorola, Samsung, and Sony, will be released 'in the next few weeks'. However, since this release comes at the cost of absolutely nothing, most people would undoubtedly wait for its release patiently.
Let's just hope the new Android Lollipop experience is a fairly 'sweet' one.