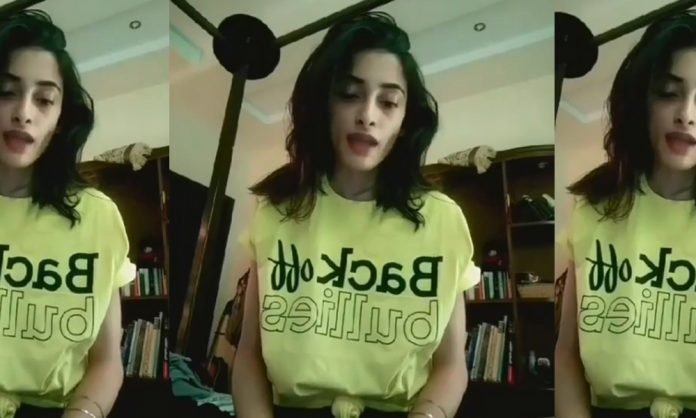 Social media is in shock after the tragic death of the 26-year old Pakistani model, Anam Tanoli.
Police discovered her lifeless body hanging from the ceiling fan of her room at her residence in Defence B area, Lahore. The deceased was later shifted to Jinnah Hospital for further investigation.
The Curious Case of Anam Tanoli's Death
The initial medical examination has revealed that Tanoli was suffering from depression. No marks of torture were found on her body and she reportedly died of asphyxiation.
Anam's mother told the media that the model was under severe mental stress and had an appointment scheduled with a therapist later that day.
However, further inquiry by the police will eventually decide if this was a suicide or a homicide.
The young model was also a fashion designer and had returned from Italy two months back.
Taking immediate notice of her alleged suicide, PTI's presidential candidate, Arif Alvi has announced a 24/7 helpline for those suffering from depression.
Model Anam Tanoli 'commits suicide' in Lahore https://t.co/l26rWdwSoE… Millions of people specially women under different socio-economic pressures face depression & some commit suicide. Psychiatric help should be readily available including a 24/7 helpline.

— Dr. Arif Alvi (@ArifAlvi) September 2, 2018
Pakistan's entertainment fraternity is in utter distress over the loss of a soul so young.
RIP – Aman Tanoli 💔💔 #RIPANAMTANOLI pic.twitter.com/DBLAjqrVKj

— MAWRA HOCANE (@MawraHocane) September 3, 2018
A young, up and coming Pakistani/Italian model died yesterday. On the face of it, it looks like suicide by hanging. I wonder what could possibly have driven a talented young girl like that to take her own life. R.I.P. #anamtanoli #depressionkills #bekindtoothers

— Armeena Khan (@ArmeenaRK) September 2, 2018
A seemingly happy girl in Venice a few months ago. Now found dead hanged from the ceiling fan in her apt.

Did she commit suicide or was this murder? I didn't know her at all but am so disturbed and confused by this.

Anam Naveed Tanoli, you beautiful girl – what happened? pic.twitter.com/pd3qJ4gHO0

— Fifi Haroon (@fifiharoon) September 2, 2018
Meanwhile, actress Saeeda Imtiaz who will be seen in Pakistani movie Kaptaan, claims that Anam's death is a murder.
R.I.P Anam tanoli – She is surely murdered as I recently worked with her. she was a young confident girl n too blunt. Such a jolly soul; No matter how depressed she could have been will not commit suicide in such a way as far as I believe. I hope justice prevails 💔

— Saida Imtiaz (@SaeedaImtiaz) September 2, 2018
What's more, a video has surfaced on social media in which a Youtuber called 'Chacha Shakoor' has claimed that Anam Tanoli was murdered.
His video also claims that the model Anam paid several visits to a Punjab MPA's residence in Thokar Niaz Baig and has deep ties to this murder case.
However, no evidence was revealed in the video in this regard and could be a mere sensationalist report.
https://youtu.be/FpneYX5bcHw
Earlier, Anam Tanoli addressed her haters in a video message occasionally who bullied her on social media.
While her Instagram account has now shut down, the clip is now going viral on social media.
Anam's case is yet another wake-up call for all of us to start taking depression seriously. What's more, bullying must be condemned and shunned in all professions.
We offer our condolences to the friends and family of the departed.
Stay tuned to Brandsyanrio for more updates.